Archive footage of secret US nuclear tests made public
Comments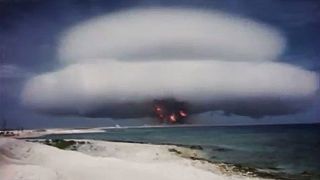 The Lawrence Livermore National Laboratory in California has made public an archive of 10,000 videos showing secret nuclear tests carried out by the USA.
Previously classified, much of the footage dates back to the Cold War era in the 40s and 50s and shows nuclear bombs being detonated on land, at sea and underground.
A team of experts from the Californian university spent five years locating restoring and digitising film, which was decomposing.
The project's aim was to provide better data to the post-testing-era scientists to "help certify that the ageing US nuclear deterrent remains safe, secure and effective".
Greg Spriggs, a weapon physicist who led the team, hoped that making the videos public would serve as a deterrent to using them again in the future:
"I think that if we capture the history of this and show what the force of these weapons are and how much devastation they can wreak, then maybe people will be reluctant to use them."
"We hope that we would never have to use a nuclear weapon ever again."