La Pedregosa: turning blood fields into green fields
Comments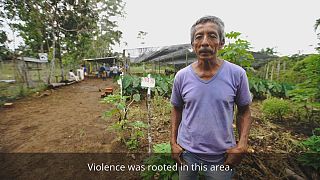 The villagers of La Pedregosa are learning how to go back to farming to become self-sufficient, producing their own food, but also to help overcome a violent past.
This Colombian 'vereda', or village, is in Putumayo, a district that has been devastated by guerrilla groups and paramilitary forces. The village itself was used as a base by 'autodefensas', paramilitary groups, between 2003 and 2005. Many residents had to flee, many were killed or went missing.
Mass graves have been found around here and residents believe many could still be buried somewhere. Last year villagers decided the legacy left by the conflict had to be erased. A dozen women created the association 'La Amistad', meaning 'friendship', and managed to buy a plot of land. This is now used as a sort of school orchard with the help of the UN Food and Agriculture Organisation, financed by the EU office for Humanitarian Aid. Their experts come here once a week. The project will last one year and finish next July. The idea is that residents will then be able to replicate what they have learnt in their own plots of land.
One resident, lvaro Portilla, told Euronews: "Violence was rooted in this area. This place was dominated by illegal groups, in this case paramiltary groups. They lived here for a long time and they turned this place into a battlefield. They were here between 2004 and 2005 and this was considered one of the most dangerous areas of the municipality of Puerto Caicedo. Self-defence groups were trained here. There were massacres, displacement. One of my nephews was killed. I had to leave for three months. Then I came back to work because I thought to myself, death will come one day – I need to face reality. I accepted that I would either be killed or spared, but I wouldn't flee again."