Trump-Jinping meeting a step into the unknown
Comments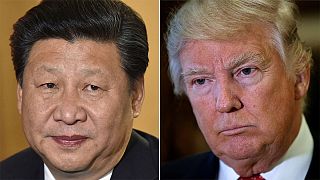 When Donald Trump meets his Chinese counterpart Xi Jinping at the US president's Florida estate on Thursday and Friday, it will be another round of firsts:
Not only will it be their first ever meeting, it will also be the first time that a US president meets Beijing's top leader so early in his presidency, not even two months after Trump's inauguration.
Barack Obama met his Chinese colleague in the spring of 2009, early in his presidency, but that was a mere photo op at the margin of a G20 summit in London.
George W. Bush had his first China summit more than a year into his presidency.
Trump's apparent rush to organize the high-level sit down has left China experts in Washington at a loss. "It is totally unclear what the US strategy toward China is", says Christopher Johnson, a former China analyst at the CIA. "Right now we are unprepared for a summit and understaffed."
Modern US-China summits go back to Richard Nixon's presidency and have been top diplomatic events that were meticulously planned for months and months.
But those were the days when, on the American side, it was the State Department who was the main organizer of these meetings. In the Trump era, things are different.
In fact, it was Trump's senior advisor and son-in-law Jared Kushner who single-handedly negotiated the details of the meeting.
Kushner and the Chinese ambassador, Cui Tiankai, have established a busy back channel during the early days of the Trump administration.
The two men agreed on Trump's club, Mar-a-Lago, as the site for the meeting, and the ambassador even sent Kushner drafts of a joint statement that China and the United States could issue afterward, the New York Times has learned.
Kushner's central role reflects not only the peculiar nature of this first meeting between Trump and Xi, but also of the broader relationship between the United States and China.
It is at once highly personal and bluntly transactional — a strategy that carries significant risks, experts say, given the economic and security issues that already divide the countries.
Chinese leaders usually don't care about personal relationships with foreign leaders, nor do they play golf.
But Beijing remains bewildered by the new man in the White House who had attacked China relentlessly during the campaign as the greatest currency manipulator of all times and inventor of climate change.
Yet, the Chinese still don't have a sense how to frame Trump, no clear reading of him, notes Christopher Johnson.
In China, there is an almost cartoon-like image of Trump as businessman-turned-president – but also the realization among government officials that after the first chaotic two months of the new administration, the political establishment in the US (the courts, Congress, Trump's conservative caucus) has shown Trump its teeth.
In other words: it's time to meet Trump and find out what he is really up to and what he can deliver.
Trump will use the Florida summit to hammer at the issue of "fairness", says Scott Kennedy, a leading authority on China's economic policy at the Center for Strategic and International Studies (CSIS) in Washington. "China wins, China wins, China wins."
"And Xi's response will be: tell us how we can help?"
On top of Trump's wish list is China's cooperation on North Korea's nuclear threat. He wants Beijing exercise their influence and put more pressure on their fellow communist regime in Pyongyang.
But in a weekend interview with the Financial Times, his message to the Chinese was that they are dealing with…Trump.
Trump made clear that he would deal with North Korea with or without China's help. Asked if he would consider a 'grand bargain' – where China pressures Pyongyang in exchange for a guarantee that the US would later remove troops from the Korean peninsula – Trump said: "Well if China is not going to solve North Korea, we will."
In other vital areas like trade and the economy, it is not clear what Trump wants from Xi.
Trump has complained in the past about barriers to US imports and investment, but he might be satisfied with a reduction in two-way trade if it resulted in a larger drop in imports and hence a smaller bilateral trade deficit, says Scott Kennedy.
He has also complained about currency manipulation, but it is unclear if Trump would accept a free-floating renminbi if that led to a depreciation and more competitive Chinese exports.
Trump has railed against Chinese industrial policy, but he needs to articulate which areas of state support he finds most egregious. Additionally, he needs to explain whether satisfactorily addressing US concerns should be measured by changes to Chinese policies or commercial outcomes, Kennedy says.
As Washington's China experts are still pondering Trump's future approach to China, the Chinese celebrated Tomb Sweeping Day this Monday, an occasion to pay respect to one's ancestors, as well as celebrate the arrival of spring and the pursuit of good health.
Says Kennedy: "The core decision President Trump has to make is whether to follow in the footsteps of every president since Richard Nixon and pursue engagement or whether to set out on a new course of more uniform confrontation."