Fruity mix - Cuba uses condoms to make wine
Comments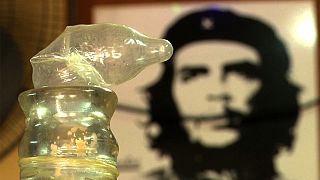 Famous for its rum and cigars, Cuba could soon be known for its French (letter) wine.
That is because one producer is using a rather unusual item to ferment his homemade fruity mix – condoms.
No, this is not some late April Fool's joke, the rubber really does protect the wine and stop any unexpected surprises.
The winery's owner Orestes Estevez said:
"When you put the condom on the bottle you make a little hole in the tip, and it starts to rise (the condom) – just like a guy, it stays up. And when the fermentation stops, it deflates, and it won't rise again for anything."
A lack of tools due to the US trade embargo on Cuba forced the winery to use the inflatable friends.
It's unclear if the wine has a latex taste, but at one euro a bottle, a vintage might be a bit of a tall order.