EU-UK mistrust on Brexit 'threatens anti-terror cooperation'
Comments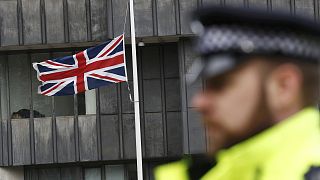 Britain's plan to begin the formal process of leaving the European Union next week will not be delayed by the terrorist attack on Westminster, a spokesman for the prime minister has said.
Theresa May has said she intends to trigger Article 50 of the Lisbon Treaty on March 29.
Wednesday's events, which saw a policeman stabbed to death in Parliament's grounds and innocent civilians mown down outside, pushed matters like Brexit to the back of people's minds.
Nevertheless there are questions over the impact on security of the UK's future departure from the European Union.
The attack came on the first anniversary of the Brussels bombings, and similar tactics were used in Berlin and Nice last year when vehicles were used to run people over in crowded places.
The threat level in the EU has risen since the Brussels attacks, according to the Soufan Group which provides security intelligence services to governments and international organisations.
The threat of similar unsophisticated attacks will remain high for the foreseeable future https://t.co/Wix3aJHFvt

— The Soufan Group (@TheSoufanGroup) March 23, 2017
The UK is about to begin its divorce proceedings with the EU, but security services rely on sharing information and will want to continue doing so.
Julia Ebner, policy analyst with the counter-extremism organisation Quilliam, told Euronews that the political tensions set loose by Brexit could jeopardise intelligence cooperation between the UK and Europe.
"It think it will be more difficult also, because the UK will not be at the table of negotiations and information exchange will become harder because it is not automatic anymore. Because it will require an active effort from both sides and of course the decreased trust levels between political actors will play into that and might decrease the standards of intelligence sharing and information sharing on a European level," she said.
London attack a reminder for Theresa May that EU security ties must survive #Brexit, reports jeremylawhodges</a>.<a href="https://t.co/agQUZoOlEm">https://t.co/agQUZoOlEm</a> <a href="https://t.co/rooUDPcfJa">pic.twitter.com/rooUDPcfJa</a></p>&mdash; BloombergQuint (BloombergQuint) March 23, 2017
Before last year's EU referendum, the then Home Secretary (interior minister) Theresa May – who at the time wanted the UK to remain – listed several advantages of EU membership she said made Britain safer, in a speech in April.
She singled out the European Arrest Warrant and EU Passenger Name Record- (PNR) directive as measures which made "a positive difference in fighting crime and preventing terrorism". Other agreements she cited covered matters such as intelligence and data sharing, and joint investigation teams.
Without such "practical measures", she argued, "Britain would be less safe".
The current Home Secretary Amber Rudd has said it is a "priority" for the UK to keep the European Arrest Warrant. The government's White Paper on Brexit says it plans to "continue our deep cooperation with the EU and its member states on security and terrorism".
However, the Centre for European Reform has argued that a security agreement will not be easy.
Opponents of the European Arrest Warrant have claimed that it undermines legal freedoms.