ETA to announce disarmament - reports
Comments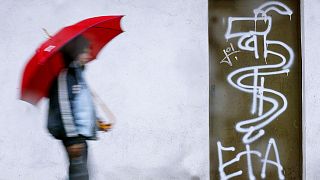 Basque militant separatist group ETA are reportedly set to announce plans to disarm.
Let's hope this time the weapons handover will be final

leader of pro-Basque independence party, EH Bildu
France's Le Monde newspaper reports the group has scheduled a full handover of weapons for April 8, six years after declaring a permanent ceasefire.
#BREAKING Spain's ETA plans to fully disarm by April 8: source close to talks

—

AFP

news agency (@AFP) March 17, 2017
Can the report be believed?
Several Basque political leaders, including the leader of the regional government, have said news of a final possible weapons handover is credible.
What would disarmament mean?
It would mark one of the last chapters in the drawn-out demise of ETA, which:
formed in the 1950s
aimed to establish an independent Basque state in northern Spain and southern France
killed more than 800 people over several decades
called a unilateral ceasefire in 2011
ETA to announce disarmament today, handover weapons by April https://t.co/3qgoDMzQ4ppic.twitter.com/qm2RLxF2ID

— Breaking News Live (@brnewslive) March 17, 2017
But some weapons have already been handed in?
Yes, but so far only part of the group's arsenal. ETA was severely weakened in recent years after hundreds of its members, including its leader, were arrested. Police have seized several weapons stashes.
The group has tried on several occasions to negotiate a disarmament with the Spanish and French governments, which have refused to deal with the group but have urged it to hand over its arsenal.
What the politicians are saying
"ETA has to do two things: disarm and dissolve itself," Spanish government spokesperson Inigo Mendez de Vigo told a news conference on Friday.
"The Basque government will do everything in its power to make sure this goes according to plan, even if not everything is in our hands," said regional leader Inigo Urkullu
"Let's hope this time the weapons handover will be final," Arnaldo Otegi, leader of the far-left Basque pro-independence party EH Bildu says news of the disarmament is an "exciting historical moment".