What Malta's Azure Window looks like now
Comments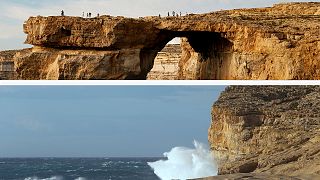 Weather conditions around the small Mediterranean archipelago of Malta have eased enough to allow divers to inspect the Azure Window rock monument underwater.
Rough weather and heavy seas brought about the collapse of the 50-metre tall stone arch on Malta's Gozo island.
Raniero Borg, an experienced diver, was one of the first to visit and film the world-famous arch in its final resting place.
He shared a video of his findings on his social media accounts.
The area is also a popular destination for underwater diving.
The natural monument was a popular tourist destination and featured in films and on television. It served as a backdrop to the 1981 film Clash of the Titans and more recently in the HBO series Game of Thrones.
Geologists had warned the arch was rapidly eroding and police had banned visitors from walking on top of it.
Roger Chessell, a resident of the island, witnessed the arch's collapse.
"There was a big raging sea beneath the window," he told the Times of Malta. "Suddenly, the arch collapsed into the sea with a loud 'whoomph', throwing up a huge spray. By the time the spray had faded, the stack had gone too."
Malta's prime minister on Twitter called the formation's collapse "heartbreaking."
The site from where one could admire it-Tieqa tad-Dwejra. Heartbreaking. pic.twitter.com/S4XV6MyKRu

— Joseph Muscat (@JosephMuscat_JM) March 8, 2017