Iceland lifts last of the government's cash movement restrictions
Comments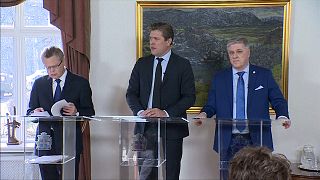 Iceland is finally getting back to financial normality.
The prime minister, finance minister and central bank governor have announced the last of the capital controls that have been in place since 2008 are being lifted.
Those limits on moving money in and out of the country were imposed after Iceland's biggest banks collapsed during the financial crisis, but the Prime Minister Bjarni Benediktsson said they are no longer needed: "You could say that the capital controls were a necessary part of reconstructing the economy after the crash. The financial controls had an effect on individuals and companies – there was an obligation to repatriate foreign currency and great restrictions were placed on capital movements."
The restrictions were put in place to prevent panicked foreign investors from taking their money out of Iceland.
They made life difficult for Icelandic companies with business activities abroad but the government said without them its currency, the krona, would have collapsed.
Iceland's economy has now completely recovered, helped by a surge in tourism and investment.
Last year GDP rose by 7.2 percent.