'Dream Empire' takes top award at Thessaloniki Film Festival
Comments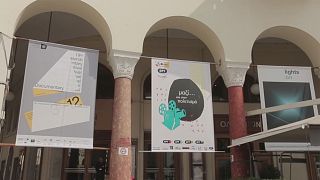 One of the world's most important film festivals of its kind, the 19th Thessaloniki Documentary Festival, is coming to an end after displaying an array of films on topics from politics and history, to art and food.
The winner of the top award was "Dream Empire" by David Borenstein – an expose of how foreigners are used to attract investors in the Chinese real estate market – mixing a personal story with a touch of irony.
The Danish production, whose director is American, was awarded the "Golden Alexander" prize, worth 5,000 euros, by the panel of five judges.
The second prize "Silver Alexander" went to Rahul Jain's "Machines", a film about India's labour market.
The jury's "Special Mention" award in the international competition went to "Shingal, Where are you?" about the persecuted Yazidi people in Iraq, who found refuge on the Turkish border after being driven from their lands by the self-proclaimed Islamic State.
"The story of the film creates strong emotions to the viewer, empathy for its characters. I am also a grandson of a refugee, that's why I am so sensitive with this issue," the director, Angelos Rallis, told Euronews.
A total of 213 films were presented during the festival, 64 of them Greek.
"This year, we added an international competition section with first or second films by young directors. In combination with the well trained audience of Thessaloniki, we have created the best environment for them to present their documentaries. And we also added a new section for (documentaries about) food," said the Director of the Thessaloniki Film Festival, Orestis Andreadakis.
DREAMEMPIRE tops the #Thessaloniki Documentary Festival's awards list filmfestivalgr</a> <a href="https://t.co/WX6g1qrsSt">https://t.co/WX6g1qrsSt</a></p>&mdash; cineuropa.org (Cineuropa) March 13, 2017
The UN's refugee agency worked with the festival to put on an event called "Food Uniting People – with Refugees".
Eight men, Yazidis from Iraq and Arabs from Syria, now living in camps in northern Greece, cooked traditional dishes from their home countries.
Euronews correspondent Yorgos Mitropoulos reported from the festival:
"This documentary festival puts us in touch with the most important global issues, hosting the best productions from around the world. These films change the way we see life, the environment, society and politics."
The full list of awards is available here.
Refugee cookout steals the show at 19th filmfestivalgr</a> Thessaloniki Documentary Festival <a href="https://twitter.com/UNHCRGreece">UNHCRGreece#Greecehttps://t.co/SVSjAyBXRTpic.twitter.com/xUppUwiz4z

—

ANA

-

MPA

news (@amna_newseng) March 10, 2017