Russia and Turkey hail Syria cooperation and strengthen ties
Comments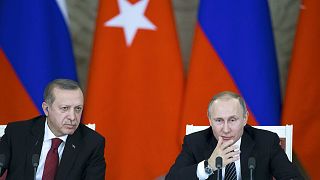 Putting past problems behind them on Friday, Russian President Vladimir Putin and his visiting Turkish counterpart Recep Tayyip Erdogan have hailed their military cooperation in Syria.
At a meeting in Moscow, Putin said the Syrian ceasefire is, on the whole, being observed and that he is cautiously optimistic on the chances for a peace deal.
Turkey launched a military operation last August to create a safe zone along its border inside Syria.
Russia also has an active military presence, backing Syrian President Bashar al-Assad's forces.
All kinds of military cooperation with Russia in Syria: President Erdoğan https://t.co/Mt22WmjUYzpic.twitter.com/TmPgEeWU5Z

— Hürriyet Daily News (@HDNER) 10 mars 2017
Erdogan has taken an opposite stance on Assad. He has been one of the Syrian president's foremost critics.
Nonetheless, keen to show the world they're side by side in the fight against terror in Syria, Erdogan made clear that, for him, that means confronting Kurdish rebels as well as ISIL.
"We must accept the fact that one terrorist group can't be eliminated by another," Erdogan told reporters.
"As a country that has been fighting a war against terrorism for 35 years, our current enemies are terrorist groups like the Kurdish YPG, ISIL and al-Nusra."
His host wasn't going to argue.
"Russia has always been very firm against all forms of terrorism, whatever the guiding principle of that terrorism, whatever ideas are being championed by the people behind that terrorism," Putin said.
"That is our fundamental position and it won't change, under any circumstances."
Only through cooperation can we defeat terrorism - Putin on fighting #ISIShttps://t.co/G9RgqDZqMLpic.twitter.com/VU6xUb00ws

— RT (@RT_com) 10 mars 2017
Ankara is particularly concerned about the Syrian Kurdish YPG militia which it considers to be an extension of the Kurdistan Workers Party (PKK) that has fought a three-decade insurgency inside Turkey.
The two nations also strengthened commercial and other connections.
Erdogan said he expects Russia to lift completely economic restrictions previously imposed on Turkey.
Moscow imposed economic sanctions on Ankara as relations soured after Turkey shot down a Russian warplane over Syria in November 2015. Ties were formally restored in August last year.