Israeli and Palestinian women march together for peace
Comments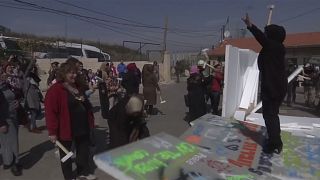 In part of the world where barriers are all too real, Israeli and Palestinian women are breaking them down.
We share the same pain

Peace and disability activist
Dozens on each side of the divide took part in a protest on Friday on the outskirts of Jerusalem.
They smashed down an improvised wall in a strong symbolic gesture and then marched together, escorted by Israeli security forces.
All the women taking part know the cost of the conflict only too well. They have all lost an immediate family member.
"I know that there is big hatred and sensitivity between Muslims and Israelis and Jews and Arabs and this is related to history," said peace and disability activist Ikhlas al-Shatiya, who explained that her father was killed in 2004 at the hands of an Israeli settler.
"But I can say that we can break this because we share the same pain and I don't want any Israeli daughter to feel sad for the loss of her father as I am now suffering from grief and sadness."
The protest was organised by the The Parents Circle – Families Forum, a group that has brought hundreds of grieving Israelis and Palestinians together to share their pain and dare to dream of a different future.