High winds cause havoc across USA
Comments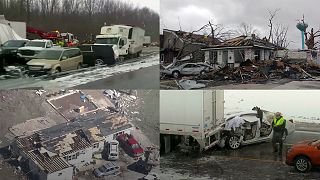 Icy conditions and powerful winds are causing havoc in the US, from multi-car pileups in Syracuse, New York, to fallen trees and power lines in South Carolina.
At least one person has been killed after a car was crushed by a large tree.
The storms causing the chaos moved eastwards after triggering a string of tornadoes in the Midwest, including Illinois, on Tuesday.
Three people are reported to have died, with hundreds of homes damaged or destroyed.