Outcry as Britain deports grandmother after nearly 30 years in Britain
Comments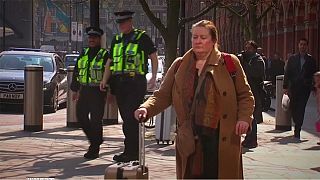 A woman married to a British man for nearly 30 years has spoken out against her treatment after she was deported back to Singapore.
Irene Clennell was forced to board a plane without warning on Sunday.
She was given indefinite leave to stay in the country after marrying in 1990, but time spent abroad looking after her dying parents is thought to have invalidated her right to remain status.
"Like any security, you know, (they were doing) as though I was a terrorist. I am tiny and I got two people that size (gestures) and that size (gestures again) holding me (by) both arms and taking me. (…) It was a bit degrading and I don't see why they had to do that because I wasn't going to run."
The 53-year-old made headlines after she was placed in a detention centre before being deported.
She has two sons and a granddaughter in Britain, but nobody in Singapore, while her husband is said to be seriously ill.