Kiev march marks third anniversary of Russian annexation of Crimea
Comments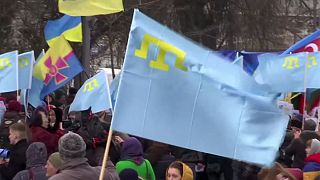 Protesters marched in central Kiev on Sunday to mark the third anniversary of Russia's annexation of Crimea.
Residents of the Ukrainian capital joined dozens of Crimean Tatars to walk through the streets to commemorate those who either lost their lives or were arrested during the revolution in 2014.
Refat Chubarov, Head of the Mejlis of the Crimean Tatar People said: "We respect the bravery of the people who, three years ago, on 26 February 2014, came to the square to limit the chances of Crimea moving into Russia.
"Those 15,000 people who protested in the square, made Putin come up with a new plan. That plan opened the eyes of the entire world. But unfortunately, the world didn't stop him."
Crimean Tatar flags also here, people demanding Ukrainians still in Russian prisons be released pic.twitter.com/ujaxiiAuuT

— Ola Cichowlas (@olacicho) February 26, 2017
Russian tanks began to roll into Crimea in 2014 shortly after mass protests led to Kremlin-friendly President Viktor Yanukovych fleeing Ukraine.
Moscow swiftly approved the annexation of the strategically positioned peninsula, following a hastily-organised referendum in which Crimean residents voted overwhelmingly in favour of leaving Ukraine to join Russia – although this vote was discredited by western powers.
Held two weeks after Russian troops had seized control of Crimea and without any credible international observers or even the option to vote for remaining part of Ukraine, the election was condemned by much of the international community.