Anti-Trump militants mark "Not my President's Day"
Comments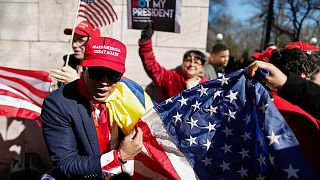 Monday was a US holiday known as Presidents Day. But for thousands of anti-Trump militants across the country, it was "Not My President's Day."
Chanting "he cheats, he lies, open up your eyes", hundreds rallied outside the Trump International Hotel in New York City.
Organizers said they opposed Donald Trump's agenda, including proposed cuts in federal spending and construction of a wall along the border with Mexico.
"Donald Trump is literally our president, but figuratively, he has attacked every value New Yorkers embody and does not represent our interests," organizers said on Facebook.
Thousands answer call to protest under the banner #NOTMYPRESIDENTSDAY in New York https://t.co/fdbqfIuYgq photos by timothyaclary</a> <a href="https://t.co/56ezC6ctXf">pic.twitter.com/56ezC6ctXf</a></p>&mdash; AFP news agency (AFP) February 20, 2017
Peaceful rallies were held in more than two dozen other cities to protest against the man who moved into the White House just one month ago.
From Los Angeles and Washington DC, demonstrators took aim at Trump's policies on immigration, abortion, climate change and Russia – and his overall divisive rhetoric.
In downtown Chicago, about 1,200 people gathered across from the Trump International Hotel and Tower. Signs spotted in the crowd included "My body My Choice" and "Jesus was a refugee," references to Trump's anti-abortion stance and his efforts to stop taking in refugees.
What the scene looked like at the "Not My President's Day" protests in some of the country's biggest cities https://t.co/BNqswIetuK

— New York Magazine (@NYMag) February 20, 2017
Presidents Day is the unofficial name of the holiday honouring the birthdays of George Washington and Abraham Lincoln, respectively the first and 16th US presidents.
Recent anti-Trump protests have included a "general strike" on Friday, a day after thousands of immigrants across the country stayed away from work and school to highlight the contributions of foreign-born residents to the U.S. economy.
NBC reported that dozens of protesters across the country were fired after skipping work to take part in the so-called "Day Without Immigrants" demonstration.