Mike Pence pledges 'unwavering' US support for NATO
Comments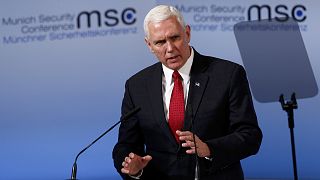 US Vice President Mike Pence pledged the Trump administration's 'unwavering' commitment to NATO on Saturday.
The United States is now and will always be your greatest ally

US Vice President
Addressing the Munich Security Conference, he said the United States and Europe were "bound together by the same noble ideals – freedom, democracy, justice and the rule of law".
"Today, tomorrow and every day hence, be confident that the United States is now and will always be your greatest ally," Pence said.
"President Trump and the American people are fully devoted to our transatlantic union."
Despite his reassurances, Pence's speech was greeted by muted applause from European allies unnerved by President Donald Trump.
Trump's contradictory remarks on the value of the North Atlantic Treaty Organisation, scepticism of the 2015 deal to curb Iran's nuclear ambitions and an apparent disregard for the future of the European Union have left Europe fearful for the seven-decade-old US guardianship of the West.
Pence also repeated Trump's message that US allies in Europe must pay their fair share to support NATO.
"Europe's defense requires your commitment as much as ours", @VP Michael Richard Pence at #MSC2017#MSC17pic.twitter.com/5xFKSxUzW7

— Security Conference (@MunSecConf) 18 février 2017
Pence said the US would "hold Russia accountable" while seeking "common ground".
For German Chancellor Angela Merkel, also addressing the forum on Saturday, that includes working with Moscow in the fight against Islamist terrorism.
"Russia is a neighbour of the European Union. Russia is on our external borders," Merkel said.
"I won't let up in efforts to establish a better relationship with Russia despite differing opinions on many issues."
Asked separately about Trump's blistering attacks on the news media, Merkel stressed the importance of the freedom of the press.
"The freedom of the press is one of the pillars of democracy", German chancellor Angela Merkel at #MSC2017#MSC17pic.twitter.com/2za2sJPNou

— Security Conference (@MunSecConf) 18 février 2017
with Reuters