Unrest over alleged police brutality in Paris continues over weekend
Comments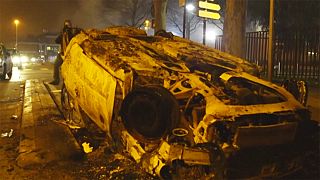 Unrest on the outskirts of Paris showed no sign of abating over the weekend as protesters clashed with riot police over the arrest of a local man.
Cars and refuse bins were set ablaze and shop windows smashed as demonstrators vented their anger over police brutality.
The Parisian suburbs of #Bobigny and #AulnaySousBois are in their sixth night of rioting over the alleged rape, by police, of a young man. pic.twitter.com/LIhM0LG7Oy

— Chris Humphreys (@CJH_News) 11 February 2017
Tensions rose over in Aulnay-sous-Bois outside the French capital over the weekend after a policeman was accused of rape and three others of unnecessary violence in the arrest of a 22-year-old man.
Some 2,000 demonstrators had gathered peacefully in the area in support of the arrested man, identified by his first name, Theo, but officials say that protesters began to hurl crude projectiles at riot police.
The rally soon descended into riot.
As well as setting light to cars and rubbish bins, protesters also smashed shop windows and destroyed their contents during the demonstration.
"This is my life here, everything is lost." said Mezine, the owner of a looted supermarket. "They broke everything, they all ran away. The shop is 200,000 euros, at least. Everything, my whole investment is gone."
The four policemen have been placed under formal investigation for their roles in the arrest, which left Theo in need of major surgery.
Théo a réagi avec dignité et responsabilité. La justice a été saisie, il faut lui faire confiance. Elle ira jusqu'au bout. pic.twitter.com/YRlpdFXII6

— François Hollande (@fhollande) 7 February 2017
When he arrived at hospital following his arrest in early February, doctors discovered that his primary injury had been caused by a police truncheon that had been forced inside his rectum.
The officers, who have been suspended from the police force, are also accused of spitting on him and spraying him with tear gas at close range.
Theo maintains that the attack was intentional.