Turkmenistan's 'protector' wins third term with '97 percent of vote'
Comments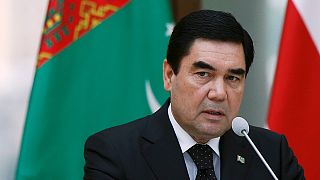 President Kurbanguly Berdymukhamedov of Turkmenistan has won a third term in office, with a largely expected landslide in Sunday's election.
The Election Commission says Berdymukhamedov won at least 97 percent of the votes from a turnout of 97 percent.
He received the same percentage of votes in the previous election in 2012.
Berdymukhamedov, a dentist by trade, has ruled the gas-rich central Asian nation since the death of his autocratic predecessor Saparmurat Niyazov in 2006.
Turkmenistan, a former Soviet state, borders Kazakhstan, Uzbekistan, Iran and Afghanistan, as well as having a coastline on the land-locked Caspian Sea.
It produces around 70 billion cubic metres of natural gas a year, around 2/3 of which goes to the Russian Gazprom firm, though recent deals with Iran and China are aimed at reducing dependency on their northerly neighbours.
According to Amnesty International, freedom of expression and journalism are severely restricted. Despite a seemingly liberal media law of 2013, media remains "subject to extensive state censorship". Internet access is also monitored, and social networks are frequently blocked
Berdymukhamedov likes to be known as 'Arkadag' – the Protector. Saparmurat Niyazov was equally humble, insisting on being referred to as "Turkmenbashi"- Leader of all the Turkmens, as well as being President for Life.
In February 2016 a new constitution abolished age limits and extended term limits, which opened the door for Berdymukhamedov to become a second life-long President.
The nation's capital Ashgabat has been described as Olympic-Gold-level bananas; truly and utterly bonkers by a British journalist
The centrepiece of Turkmenbashi square in Ashgabat is a golden, rotating statue of the former leader. Why does it rotate? To continually face the sun, of course.
Not to be outdone, another golden statue was unveiled in 2015. This one shows the current President, a top a horse which in turn is perched on a 20 metre marble cliff
Berdymukhamedov is a keen equestrian enthusiast, hence the statuesque steed, and was recently given the honorary title "People's Horse Breeder". The title didn't stop him crashing to an unpleasant but ultimately harmless fall in a Day of the Horse celebratory race.