USA: Mexican mother deported under Trump crackdown
Comments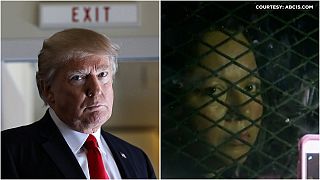 Enforcing the Trump administration's crackdown on immigration from Mexico, US Homeland Security Secretary John Kelly has been visiting federal facilities on the southern border.
The retired Marine General will oversee construction of Trump's much-talked about border wall.
In the meantime, at the Nogales crossing between the two countries, a young mother was among the first to be deported under new measures.
Guadalupe Garcia de Rayos, 36, who has been in the US since she was 14, was sent back to Mexico, despite protests outside a Phoenix Immigration and Customs Enforcement (ICE) office that saw seven people arrested.
Arizona State Senator Martin Quezada, a Democrat, was among those condemning her expulsion.
Guadalupe Garcia de Rayos' deportation only served to divide a family & misplace priorities making us all less safe.https://t.co/jF3Hb5MIQw

— Sen. Martín Quezada (@SenQuezada29) 9 février 2017
Undocumented, Garcia de Rayos had been convicted of working under a fake Social Security number. The Obama administration had granted her leniency. Not so under President Trump – and returning won't be easy.
"Getting back to the US, legally, there is really no route for her," said Ray Ybarra Maldonado, the attorney representing Garcia de Rayos.
"There is no avenue for her. There is no application she can submit. There is no waiver she can submit. She missed DACA (Deferred Action for Childhood Arrivals), the president's (Obama) work permit programme by four months because she was four months too old, even though she came to the country when she was 14. I mean, this is a prime example of our failed immigration system."
The husband and both American-born children of Garcia de Rayos can stay in the United States.
Her teenage daughter Jacqueline has vowed to battle on to reunite a family that has been torn apart.
"I'm going to keep on fighting for my mom and for the other families that are going through the same thing because this is unfair," she said.
Guadalupe Garcia de Rayos was taken into custody in AZ and deported to Mexico. Watch her daughter's emotional speech https://t.co/1g1Ea1JNEIpic.twitter.com/owTR2W3mkK

— CNN (@CNN) 10 février 2017
with Reuters