Can Colombia's last rebel group find peace?
Comments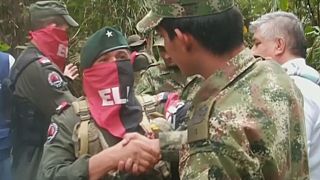 Odin Sanchez was one of the last hostages the National Liberation Army or ELN was holding in the jungle – a former Congressman who last year swapped places in captivity with his sick brother.
But last week he was released after 10 months in captivity, meaning formal peace talks could begin in the Ecuadorean capital Quito.
The government had said it wouldn't start talks with the ELN until all the hostages it was holding had been released.
For decades the ELN financed its insurgency by holding government workers, foreigners and civilians hostage.
The Marxist group was inspired by the Cuban revolutionary Che Guevara and was founded in 1964 by trade unionists, students and priests.
Its goal has been to redistribute Colombia's great oil and mineral wealth so that it benefits all of society and not just a distrusted elite.
And it especially distrusts the multinational companies that help extract the wealth.
The ELN's commander in chief, Nicolas Rodriguez joined the army at just 14 years old and he now leads around 2000 armed guerillas – far fewer than the main FARC rebel group which has already reached a peace deal with the government.
But there are signs that it may take the ELN longer to reach a deal than the FARC – Rodriguez has said that setting a deadline for a peace agreement is tantamount to obstructing it.
Analysts also point to big differences between the two rebel groups.
"The FARC is an army trying to practice politics; the ELN is a political organisation trying to wage war. In other words, the ELN may have a small number of armed fighters, but its social base is much larger than that of the FARC," Ariel Avila, an analyst at the University of Colombia said.
The numbers are shocking. Eight million people were victims of the 52 year old war, seven million were displaced, one hundred and fifty one thousand are missing, two hundred and sixty four thousand were killed and thirty thousand were kidnapped.
The FARC peace deal is already being implemented.
Eighty percent of its six thousand three hundred guerillas have travelled to transition camps. There the long process of disarming and demobilising them has begun in the hope that they will eventually reintegrate back into society.
But many fear that criminal gangs and paramilitary groups will move into the territory the FARC guerillas used to control.
And if that happens Colombia's violent history is likely to continue, even after all the peace agreements are signed.