Passengers take advantage of suspended Trump travel ban to fly to US
Comments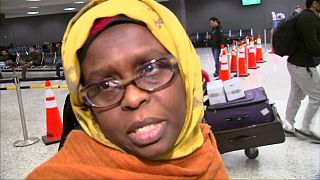 The uncertainty caused by the legal tussle over the Trump administration's travel ban has opened a window for travellers from the seven affected countries to enter the United States.
The government faces a Monday evening deadline to justify its travel ban before the appeals court, after a judge in Seattle blocked it.
On one of the first planes out of Iraq over the weekend with a connection to the US was Fuad Sharef, who worked for a subcontractor for the US government aid agency.
He, his wife and three children were barred from boarding an American-bound flight last week. They left Erbil, the capital of the Kurdish region in northern Iraq, on a Turkish Airlines flight with a connection to New York via Istanbul, and arrived safely at JFK airport.
"I don't know how to describe it, I am very, very happy. This is a special day, it's an exceptional day, believe me. I am very, very happy, I did not expect this," he told reporters.
Once in the United States the family later headed to Nashville, Tennessee, where the local Tennessee Immigrant and Refugee Rights Coalition (TIRRC) turned out to welcome them.
Thanks to MayorMeganBarry</a> <a href="https://twitter.com/repjimcooper">repjimcooper & the 200 Nashvillians who came to the airport to welcome Fuad & family https://t.co/wOSZzZyIQm

—

TIRRC

(@tnimmigrant) February 6, 2017
Passengers leaving the international arrivals area at Dulles airport outside Washington were met on Sunday by well wishers opposed to President Trump's travel ban.
Rouda Adam, an American citizen originally from Sudan was among them. She told Reuters she was returning from a visit to Mecca in Saudi Arabia after enduring a week of uncertainty.
"I was worried. I'm telling you, I was worried. But my husband, he keeps telling me now everything, they solved it. So thank you, guys," she said, congratulating newspapers and reporters for doing a "good job".
Reunited with her family in San Francisco was 12-year-old Eman Ali. Her parents and sister are US citizens but she was born in Yemen and had not received her citizenship when Trump issued his order.
She and her father had been stuck in Dijibouti for a week. The 38-year-old grocery store manager from Los Banos, California, said he spent five years trying to get his daughter a visa.
Salma Ali awaits arrival of 12 yr old sister from Yemen, Eman Ali, who almost didn't make it because of Trump's exec order. At SF airport pic.twitter.com/dAizY7GiLI

— emilytgreen (@emilytgreen) February 6, 2017
Around 40 Yemeni nationals with US visas were stranded in the east African nation because of the travel ban. They were allowed to board a Qatar Airways flight bound for New York on Sunday – the third group to travel to the US in two days.
More Yemenis with US visas in Dijibouti were expected to fly to the US on Monday.
Donald Trump, who had called for a temporary ban on Muslims entering the country on the campaign trail, has vowed to reinstate the ban on citizens from Iran, Iraq, Libya, Somalia, Sudan, Syria and Yemen, as well as a 120-day bar on refugees from every nation, in the aim of protecting America from Islamist attacks.