Trump meets family of US Navy Seal killed in 'successful' Yemen raid
Comments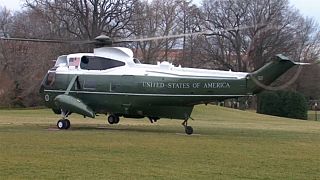 US President Donald Trump traveled to Dover Air Force Base in Delaware yesterday (February 1) in an unexpected visit to meet the family of Navy SEAL William "Ryan" Owens who was killed in the first operation authorised by Trump as commander in chief.
The Pentagon said the raid on a branch al Qaeda in the Arabian Peninsula (AQAP) in al Bayda province also killed 14 militants. However, medics at the scene said about 30 people, including 10 women and children, were killed.
US Central Command said in a statement that an investigating team had concluded regrettably that civilian non-combatants were likely killed during Sunday's raid. It said children may have been among the casualties.
Central Command said its assessment "seeks to determine if there were any still-undetected civilian casualties in the ferocious firefight."
Insufficient intelligence
US military officials told Reuters news agency that Trump approved his first covert counterterrorism operation without sufficient intelligence, ground support or adequate backup preparations.
As a result, three officials said, the attacking SEAL team found itself dropping onto a reinforced al Qaeda base defended by landmines, snipers, and a larger than expected contingent of heavily armed Islamist extremists.
The US officials said the extremists' base had been identified as a target before the Obama administration left office on Jan. 20, but then-President Barack Obama held off approving a raid ahead of his departure.
WATCH: Pres. Trump and Ivanka Trump depart for flight to Delaware air base to receive remains of fallen Navy SEAL William "Ryan" Owens. pic.twitter.com/03Tpkxnm7J

—

NBC

Nightly News (@NBCNightlyNews) February 1, 2017
'Operation vetted by Obama administration'
A White House official said the operation was thoroughly vetted by the previous administration and that the previous defense secretary had signed off on it in January. The raid was delayed for operational reasons, the White House official said.
Led the House in moment of silence for Peoria's fallen Navy SEAL Ryan Owens, who lost in a raid against al-Qa'ida in Yemen: pic.twitter.com/Ui7qBgEWG6

— Darin LaHood (@RepLaHood) February 1, 2017
Military officials who spoke to Reuters on condition of anonymity said "a brutal firefight" killed Owens and at least 15 Yemeni women and children. One of the dead was the 8-year-old daughter of Anwar al-Awlaki, a militant killed by a 2011 US drone strike.
The American elite forces did not seize any militants or take any prisoners offsite, but White House spokesman Sean Spicer said on Wednesday the raid yielded benefits.
"Knowing that we killed an estimated 14 AQAP members and that we gathered an unbelievable amount of intelligence that will prevent the potential deaths or attacks on American soil – is something that I think most service members understand, that that's why they joined the service," Spicer said.
Two years ago, AQAP claimed responsibility for the attack on the French satirical magazine Charlie Hebdo.
Chief Special Warfare Operator William "Ryan" Owens, will be posthumously awarded the Purple Heart.
Chief Petty Officer William "Ryan" Owens, 36. RIPpic.twitter.com/ZwTFddaOdG

— Jake Tapper (@jaketapper) January 31, 2017