Tillerson must hit the ground running as US top diplomat
Comments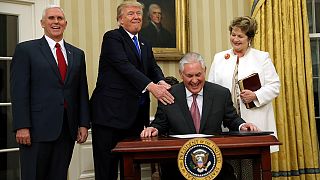 Rex Tillerson has been sworn in as America's top diplomat. The former Exxon Mobil boss became the 69th US secretary of state after the Senate finally approved his appointment, voting largely along party lines.
Tillerson is now the man President Donald Trump will turn to for advice on foreign affairs.
"… as I serve this president I serve their interest and will always represent the interest of all the American people at all times and again Mr. President thank you for this extraordinary opportunity," said Tillerson after he was sworn in to office.
Under any circumstances Tillerson would have expected to inherit a long list of issues including civil war in Syria and relations with Russia and China. But in the 12 days since Donald Trump's inauguration the White House is finding itself having to deal with the fallout from the president's travel ban. It would be challenge to anyone's diplomatic skills.