Furor and global protests over an executive order curbing immigration?
Furor and global protests over an executive order curbing immigration? Just some whiners who can't get over the fact that Donald Trump is president. News media complaining about access and fake news? They should keep their mouth shut and "just listen for a while". No mentioning of Jews in a statement on Holocaust Remembrance Day? No regrets.
The reactions emanating from the White House to the latest public controversies bear the fingerprints of a man who is emerging as the most important power centre inside Trump's inner circle (with the possible exception of son-in-law Jared Kushner): Steve Bannon, top political advisor and former chairman of Breitbart News, an outlet that spreads white supremacist views and peddles racist and misogynist conspiracy theories.
Like pre-November Trump, Bannon has never been elected to office or gained governing experience. Before moving into Trump's orbit he had been a naval officer, investment banker, minor Hollywood player, and political impresario whom Bloomberg Politics back in 2015 called "the most dangerous political operative in America".
In the early stages of the 2016 presidential campaign, Bannon was instrumental in bringing down Jeb Bush and later Hillary Clinton by feeding information of alleged financial shenanigans to mainstream news media which gave those stories an aura of reliability – and contributed to constant negative headlines about the Clinton Foundation, for example.
After the election, Bannon's appointment as a key Trump advisor and strategist with office space in the White House caused an uproar among Democrats and in the media. Countless Breitbart articles were quoted as proof that Bannon is anti-Semitic, anti-minority or anti-women. Bannon and Trump could not care less.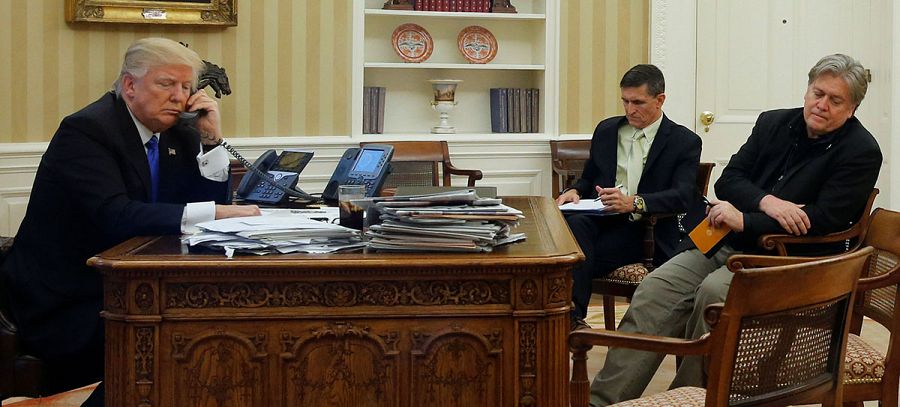 Last Friday, another outcry: Trump, reorganising the National Security Council, the top inter-agency group advising the president on national security, elevated his chief political strategist by making him a permanent NSC member.
At the same time, the director of national intelligence and the chairman of the Joint Chiefs of Staff will now attend meetings only when "issues pertaining to their responsibilities and expertise are to be discussed", according to the presidential memorandum issued Saturday.
"It is a startling elevation of a political advisor", wrote the New York Times, "to a status alongside the secretaries of state and defense, and over the president's top military and intelligence advisors".
In theory, the move puts Bannon on the same level as Michael Flynn, the national security advisor, a former Pentagon intelligence chief who was Trump's top advisor on national security issues before a series of missteps reduced his influence.
But Bannon's elevation does not merely reflect his growing influence on national security. "It is emblematic of Trump's trust on a range of political and ideological issues. During the campaign, the sly and provocative Bannon played a paradoxical role — calming the easily agitated candidate during his frequent rough patches and egging him on when he felt Trump needed to fire up the white working-class base," wrote the Times.
Trump respects Bannon because he is independently wealthy and therefore does not need the job, and both men ascribe to a shoot-the-prisoners credo when put on the defensive, according to the former Trump campaign manager Corey Lewandowski.
Trump and Bannon share the same version of "America First," something former labour secretary Robert Reich calls outright "dangerous". "Such a vision would only alienate America from the rest of the world, destroying our nation's moral authority abroad and risking everything we love about our country," Reich, who is an economist at the University of California, Berkeley, writes on his blog.
"Unsupervised by people who know what they're doing, Trump and Bannon could also bring the world closer to a nuclear holocaust," Reich concludes.
Reich's assessment might be seen by many as over the top. Yet Bannon believes that the West is already at war with a "new barbarity" of Islamic terrorism that threatens to wipe out centuries of progress.
"We are in an outright war against jihadist Islamic fascism. And this war is, I think, metastasizing far quicker than governments can handle it. We're at the very beginning stages of a global conflict, and if we do not bind together as partners with others in other countries, then this conflict is only going to metastasize," Bannon said at a conference in Rome in 2014.
"It's going global in scale, and today's technology, today's media, today's access to weapons of mass destruction, it's going to lead to a global conflict that I believe has to be confronted today. Every day that we refuse to look at this as what it is, and the scale of it, and really the viciousness of it, will be a day where you will rue that we didn't act."