Russian Duma backs draft law easing penalty for domestic violence
Comments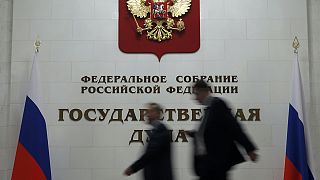 The Russian parliament's lower house the Duma has overwhelming backed a draft law that would ease some penalties for domestic violence.
It has alarmed some women's rights campaigners who fear it will encourage abuse.
The law easily passed its second of three stages in the lower house, the Duma, with only two votes against.
Assaulting a relative would become a civil not a criminal offence in first instances when the victim suffered no serious harm.
Supporters say parents should be able to discipline their children, and state meddling in family life reduced.
"In a case of physical assault during an emotional conflict, when people didn't mean to seriously harm each other, when there is no persecution of one person by another – in this case administrative responsibility is acceptable," Olga Batalina of the ruling United Russia party told the Duma.
Those who back the bill point out that anyone who inflicts serious physical harm will still be criminally liable.
But women's rights campaigners say it's a backward step. One centre for abuse victims said it would exonerate domestic tyrants.
"The State Duma is making a catastrophic mistake because even before (this new legislation), victims did not go to the police, they were told 'if he beats you it means he loves you', 'it's your fault', or 'don't wash your dirty linen in public'. From now on the victim will be the one to blame," said social and political activist Alyona Popova.
A Kremlin spokesman said it was important to distinguish between "family relations" and repeated instances of violence.
The draft law still needs to pass a third reading in the Duma and to win approval in the upper house of parliament.
A United Nations report in 2010 said each year in Russia 14,000 women were killed by husbands or other relatives.