Mayan treasures are returned to Guatemala
Comments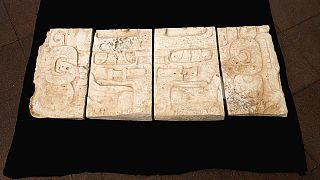 Around 22 archaeological pieces of Mayan origin have been returned to Guatemala. They are soon to be put on show in several of the central American country's main museums.
The pieces were mainly recovered from Italy, Switzerland, Germany and the United States. Some were voluntarily handed in, some were recovered by police, others were discovered as they came up as the were being illegally auctioned.
FBI returns Mayan artefacts to Guatemala – The Archaeology News Network https://t.co/fXikfl7XzSpic.twitter.com/7gNxvjBFMS

— ArchaeoNewsNet (@ArchaeoNewsNet) July 27, 2016
The majority of the items had been looted from Guatemala in the 1960s and 70s.
The Maya built soaring temples and elaborate palaces in Central America and southern Mexico, dominating the region for some 2,000 years, before mysteriously abandoning their cities around 900 AD.
For years, conservation at various archaeological sites, has been threatened by drug traffickers who use the rural areas to ship cocaine and heroin across the porous border with Mexico, deforestation by locals, looters who steal ancient artefacts to sell on the black market and wild animal poachers.