UK officers who Tasered their own race relations advisor acted as the public 'expect'
Comments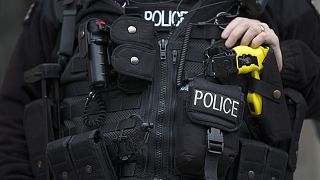 UK police officers who Tasered a prominent civil rights activist acted as "the public expect", according to the head of a local police lobby.
The Independent Police Complaints Commission has launched an investigation after reports surfaced this month that police officers in Bristol, nearly 190 kilometres west of London, used a Taser on 63-year-old Judah Adunbi, one of the founders of Bristol Police Department's Independent Advisory Group on race relations.
However, Vince Howard, a representative of rank-and-file police officers from Bristol and neighbouring Somerset County, came to the defence of his officers, who mistook Adunbi, a long-time civil rights champion in his area, for a wanted man.
Speaking to the Bristol Post newspaper, Howard said the two officers involved were presented with a person who was "uncooperative, rude and threatening in his demeanour".
He described how officers attempted to defuse the situation by explaining who they were and that they thought Adunbi was a wanted man, but the situation escalated. Adunbi reportedly refused to give officers his name several times.
One officer was allegedly assaulted as they arrested Adunbi, at which point the Taser was deployed.
"The officers were doing what the public expect of them, attempting to detain a wanted and potentially dangerous man," said Mr Howard. "They made every effort to gain the co-operation of Mr Adunbi and had he given that co-operation this matter could have ended very differently."
The independent police watchdog is studying footage, recorded by a neighbour and on police body cameras, of the exchange between Adunbi and the two officers, looking for possible evidence of police heavy-handedness.
Adunbi alleges that the prongs of the police Taser hit him in the face causing injuries which resulted in him being taken by ambulance to the Bristol Royal infirmary. He initially faced charges of assaulting a police officer and of using threatening or disorderly behaviour, but the charges were later dropped.
"I was just finishing my walk and coming home. Police were driving up the road and caught a glimpse of me," Adunbi said, speaking to the Guardian newspaper. "One of the officers came right in my face. They insisted on trying to antagonise me."
"Then I heard this sound and felt something hit me below the lip. I collapsed on the ground," Adunbi continued. "I was paralysed. I couldn't speak or move and didn't have any strength in me."
Adunbi said he had a similar encounter with police back in 2009 and felt terrified by the officers' presence.
Vince Howard's comments contrast with those made by local Police and Crime Commissioner Sue Mountstevens, who expressed concern after the incident and said she would widen an advisory panel on the use of Tasers and make sure every officer is trained on how to use them.
Police are twice as likely to fire a Taser gun when drawn on ethnic minorities than white people in Bristol, a Bristol Post investigation has found.
Between January and June 2016, police fired their Tasers 21 times, eight of which were fired at ethnic minority groups.
Of the 99 times that Bristol police drew their Tasers from their holsters in the same time period, 28 involved people from ethnic minority backgrounds.