Anti-Trump protests take the fight international
Comments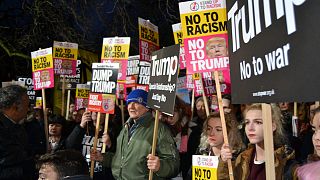 Rejection of Donald Trump has not only been expressed in America. In Europe and around the world his arrival in the White House was often greeted with anger. In the EU capital Brussels women led the protests, anxious at the signals his victory have sent out.
"The rights that have been acquired through years and years of struggle throughout the fights of our grandparents, our grandmothers, are now under attack. The space also of participation, for example I work with a civil society organisation, even the will to participate is shrinking. Look at what's happening in Europe. People cannot even peacefully demonstrate in the streets. I'm so glad that today we can have this demonstration. Maybe tomorrow it will not be the case," said one woman.
In Berlin Greenpeace were prominent underlying the threat they believe Trump represents for the environment, while in London some of the biggest protests outside America were seen, and the city's Women's march on Saturday is expected to be large.
One crowd decided to set up noisy camp outside the US embassy, with many different nationalities angered at Trumps' threats towards their communities during his election campaign expressing their outrage.