Snap election in Northern Ireland polls open March 2
Comments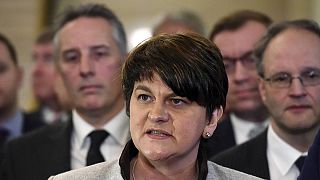 Northern Ireland goes to the polls in a snap election scheduled for March 2nd.
The ballot has been sparked by the resignation of Sinn Féin's Martin McGuinness as deputy first minister last week.
McGuinness left his post over the Renewable Heat Incentive (RHI) scheme, a failed energy project, that looks set to cost the taxpayer £490m.
As part of the Stormont power sharing process
the resignation triggered a seven-day consultation period after which Sinn Féin is obliged to nominate a successor or not. It did not sparking the election.
Sinn Féin will NOT nominate new deputy First Minister by Monday 5pm deadline – next step elections https://t.co/ohrCg9QTZppic.twitter.com/AmMVe0uaQC

— An Phoblacht (@An_Phoblacht) January 15, 2017
Sinn Fein's Conor Murphy spoke to the media:"There will be no return to these institutions of the Good Friday Agreement unless we have equality, unless we have respect, unless we have an end to the corruption of these institutions and corruption within these institutions. There can be no return unless there's fundamental change to the approach of the DUP and how they do power sharing."
The DUP, former first minister Arlene Foster believes an election is not in the best interests of Northern Ireland:"Northern Ireland does not need, nor does its people want, an election. With the triggering of Article 50 to leave the European Union, a new president in the United States of America, a volatile global economy, now more than ever Northern Ireland needs stable government."
Sum up Northern Ireland with one photo#DUP#ArleneFoster#NigelDoddspic.twitter.com/hnm84AzbIX

— Antony (@AntonyCarville) January 16, 2017
The row has now spread from the Renewable Heat Incentive to include gay rights and the Irish language.
The Assembly will be formally dissolved on 26 January.