IMF boosts US growth forecasts, keeps global growth prediction unchanged
Comments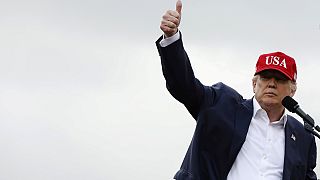 The International Monetary Fund has kept global growth forecasts unchanged in its latest economic outlook.
We now think that more of the lift will come from better prospects in the US, China, Europe and Japan

IMF Chief Economist
They expect 3.4 percent expansion for 2017 and 3.6 percent for 2018, which is unchanged from October.
That is because it now thinks there will be weakness in some emerging markets – such as Mexico – while the US economy will grow faster than previously expected in 2017 (2.3 percent, a 0.1 percent increase) and 2018 (2.5 percent, a gain of 0.4 percent).
Maurice Obstfeld, the IMF's Chief Economist, said: "Much of the better growth performance we expect this year and next stems from improvements in large emerging market and low income economies that in 2016 were exceptionally stressed. That being said, compared to our view in October, we now think that more of the lift will come from better prospects in the US, China, Europe and Japan."
Cautious over lack of specifics
The improved US growth forecast is based on the incoming Trump administration's tax cut and infrastructure spending plans but the IMF remains cautious on the basis that the unknown impact of the new president's policies presents major uncertainty for the global economy.
Obstfeld told reporters: "At this early stage… the specifics of future fiscal legislation remain unclear as do the degree of net increase in government spending and resulting impacts on aggregate demand, potential output, the federal deficit and the dollar."
The IMF's said the problem is that right now they do not have specifics of what Trump is going to do to stimulate the US economy.
It expected more certainty over the direction of US policy by the time of the next full World Economic Outlook in due in April.
One potential issue is more protectionist US trade measures and possible retaliatory responses from other governments. "In that scenario, all countries would lose out," Obstfeld said.
Global economy picking up in 2017-18 but there are still bumps on the road. #WEOhttps://t.co/tfdmuuCFjfpic.twitter.com/9rAI9qQd2v

—

IMF

(@IMFNews) January 16, 2017
Other economies
The

IMF

raised its 2017 forecasts for the eurozone and Japan by 0.1 percentage point each, largely because of stronger-than-expected results in the second half of 2016.
The 2017 growth forecast for China was revised to 6.5 percent, up 0.3 percentage point from October.
Britain's forecast was increased 0.4 percentage point, but its 2018 growth was reduced by 0.3 percentage points.
The

IMF

cut Mexico's growth forecasts by 0.6 percentage point in both 2017 and 2018, citing a consumer spending pullback amid worries about Trump's trade policies.
India is experiencing a shock to consumption from the government's decision to withdraw larger currency notes from circulation, chopping a full percentage point off the

IMF

's fiscal 2016-2017 growth outlook to 6.6 percent.
Which countries' growth rate is up, which ones are trimmed down? See IMF's latest growth forecasts. #WEOhttps://t.co/yy3XuwgQEPpic.twitter.com/S6ncq0SW4i

—

IMF

(@IMFNews) January 16, 2017