Controversial anti-pollution car stickers come into force in Paris
Comments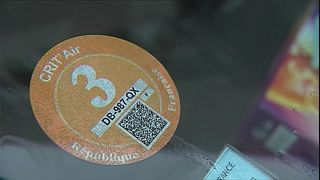 New anti-pollution measures came into force in the French capital on Monday: drivers must have a windscreen sticker to show how much their vehicle pollutes.
Those who score badly are banned from the roads on days when pollution is high.
From today, you must display a Crit'Air sticker on your car if you're heading into #Paris: https://t.co/DaNe016mI4

— Daniel Fahey (@FaheyDaniel) January 16, 2017
The law has caught many by surprise.
One driver told French television: "I don't have it yet, but today I applied for it."
Another said: "Yes, I have it ! I drive in Paris every day for my work, so yes, I know about it."
However, there is anger that vehicles older than 1999 and trucks older than 2001 will not even be eligible for a sticker, but are banned outright during working hours.
Pierre Chasserey, a spokesman for a drivers group called "40 millions d`Automobilistes", said: "Who are we to ban drivers? It's not heroin or cocaine we bought, just a car, legal for the road.
"We spent money on it. So why ban someone who simply can't upgrade their car, on the pretext their vehicle is a bit more polluting?"
There are six different-coloured stickers for various categories: from electric vehicles, the cleanest, to those that run on diesel.
The French cities of Lyon and Grenoble have introduced the same measures.
How European cities are trying to cut deadly air pollution.

Read more: https://t.co/4MkoJ2D16p#Paris#vignette#pollutionpic.twitter.com/0OGOzkdIBg

— Chris Harris (@lyonanglais) January 16, 2017
Paris aims to cut the number of private cars by 1/2 as part of campaign to tackle pollution. Find out how: https://t.co/qxDHKh6FfR#LoveAirpic.twitter.com/4NPNd2p5O2

— UN Environment (@UNEP) January 9, 2017