'Is Putin a war criminal?' Rex Tillerson grilled in Secretary of State nomination hearing
Comments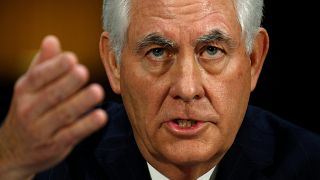 US President-elect Donald Trump's nomination for Secretary of State has received a grilling from the Senate's Foreign Relations Committee.
Is Vladimir Putin a war criminal?
At his confirmation hearing, Rex Tillerson was asked outright if Russian President Vladimir Putin is a war criminal.
Fellow Republican, Senator Marco Rubio, put the question to him in reference to Syria and alleged the Russian military had targeted civilians in Aleppo, particularly.
The US and Russia are supporting opposing sides in the Syrian civil war.
Rubio ran against Trump for the 2016 Republican presidential nominations.
Tillerson replied that he "would not use that term [war criminal]," but did say this:
"Russia today poses a danger, but it is not unpredictable in advancing its own interests. It has invaded Ukraine, including the taking of Crimea, and supported Syrian forces that brutally violate the laws of war. Our NATO allies are right to be alarmed at a resurgent Russia."
This appears to contradict Trump's previous comments on the build-up of NATO troops in countries neighbouring Russia.
"I will make a long statement about NATO, talking about the fact that many countries are not paying their fair share," Trump said in a televised speech during his presidential campaign.
"That means we are protecting them and they are getting all sorts of military protection and other things and they're ripping off the United States. And they're ripping you off. I don't want to do that. Either they pay up including for past deficiencies or they have to get out. And if it breaks up NATO, it breaks up NATO."
Tillerson, a former ExxonMobil CEO, has done business with Putin and the pair reportedly have good ties. However Republicans and Democrats alike say they are concerned about what they call Moscow's "increasingly aggressive behaviour."
Ahead of and during the hearing, Tillerson said Russia "must be held accountable for its actions.
The Kremlin responded, saying it understands that Tillerson will be quite tough in his line on Russia.
'Election hacking'
Tillerson said he believed it to be a "fair assumption" that the Russian president was aware of attempts to influence the outcome of the US election.
How will he do the job?
He was also questioned over how effectively he could transform himself from a Big Oil ''dealmaker'' to being American's top diplomat with next-to-no government experience.
Tillerson is regarded by some as an unusual choice for America's top diplomat.
The Texan had never met Donald Trump until a month ago.
Current Secretary of State John Kerry says he has not yet met Tillerson, but expects to do so soon.