Toyota trumpets US spending plans, Honda says will wait and see on Mexican production
Comments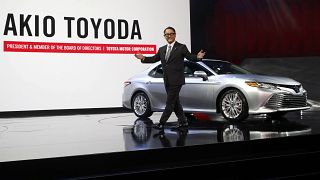 Toyota has been touting its production plans in the United States, joining other carmakers at the North American International Auto Show in Detroit who are keen to avoid being tweeted by Donald Trump over where they build their vehicles.
The Japanese company's boss, Akio Toyoda, told reporters that to meet demand it will upgrade its US plants: "We will be investing another 10 billion dollars here in just the next five years alone."
Which is the same amount it has invested there in the previous five years.
Toyota CEO Akio Toyoda met w/ VP-Elect Pence at Trump Team Office in D.C. this morning, 1 week after Trump blasted $TM Mex. production

— Phil LeBeau (@Lebeaucarnews) January 10, 2017
Honda's president – like Toyota's – stressed his company's contribution to the US economy adding it will keep building on its operations there
Takahiro Hachigo said he was taking a wait and see approach on where it builds its cars: "We intend to maintain our production in Mexico for now. We will wait for the President-elect's policies to become clearer before reviewing our plans."
Honda plans to launch a new, U.S.-made hybrid model, says CEO Hachigo at North American International Auto Show. https://t.co/ZQQme9yKd4pic.twitter.com/jgiwKHqdsE

— Paul Eisenstein (@DetroitBureau) January 10, 2017
In New York, the procession of top business leaders eager to meet Trump continued.
Alibaba's Jack Ma told him of the e-commerce firm's new plan to bring one million small US businesses onto its platform to sell to Chinese consumers.
Jack Ma's outreach to Trump coincides with concerns among U.S. regulators, policy makers about Alibaba's operations https://t.co/SpqOkMiT0Z

— Wall Street Journal (@WSJ) January 10, 2017
He was followed by Bernard Arnault, Chairman and CEO of the luxury goods group LVMH, who gushed about his firm having had a factory in California for 25 years and said it may expand its operations in the US.
Why LVMHCEO Bernard Arnault met with Donald Trump: https://t.co/np5dLN5Kptpic.twitter.com/zGPemwMRo5

—

WWD

(@wwd) January 10, 2017
There is no word on whether they talked about LVMH's reported plans to build a luxury resort in Mexico.