Reporter who broke the news of World War Two dies aged 105
Comments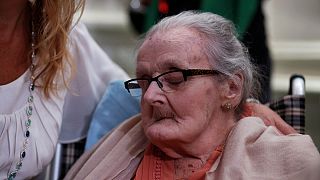 Clare Hollingworth, the British reporter who broke the news of the impending outbreak of World War Two, has died in Hong Kong aged 105.
Hollingworth, who was a correspondent for the London Daily Telegraph in 1939 and was sent to Poland to report on worsening tensions in central Europe.
We are sad to announce that veteran war correspondent Clare Hollingworth died this evening in Hong Kong aged 105. More FB <a href="https://twitter.com/CelebrateClare">celebrateclare pic.twitter.com/IN0ut4utKd

— Celebrate Clare (@CelebrateClare) January 10, 2017
While driving along the German-Polish border, Hollingworth came across a number of German troops and armoured vehicles, facing toward Poland. Her call to the British embassy in Warsaw was the first report to the British foreign office of the invasion of Poland, which would lead to the outbreak of war across Europe, and eventually, the world.
Clare Hollingworth's stonking 1939 scoop for the TELEGRAPH – the forthcoming Nazi invasion of Poland. pic.twitter.com/QWU45CnMjI

— Neil Henderson (@hendopolis) January 10, 2017
Her report for the Telegraph was ground-breaking, and cemented her place in British journalism. The Foreign Correspondent's Club (FCC) in Hong Kong, where Hollingworth had lived since the 1980's, described her famous story as "the scoop of the century".
But Hollingworth's work did not stop there. She went on to report of wars in Palestine, Algeria, China, Aden and Vietnam.
In later life she would admit to never fearing war, instead revealing "I must admit that I enjoy being in a war. I'm not brave, I just enjoy it".
Tara Joseph, the FCC President, paid tribute to the veteran reporter, saying "She was a tremendous inspiration to us all and a treasured member of our club".
Hollingworth celebrated both her 100th and 105th birthday with the club.
She was born in Leicester in 1911.