The in-tray which awaits Antonio Guterres the new Secretary-General of the United Nations
Comments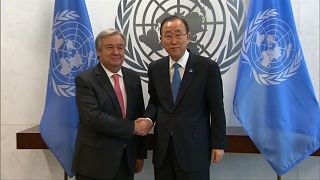 It is a heavy and critical workload which Antonio Guterres will inherit from Ban Ki-moon when the former Portuguese prime minister takes up office at the United Nations.
He becomes the new Secretary-General at a time when the world is enmeshed in a series of crises.
The civil war in Syria and its impact on the world has been a constant in the minds of politicians and diplomats for over five years. The tension in relations between Russia and the West is ever present while terror is constantly striking in different regions of the globe.
The plight of refugees and the wave of immigration from Africa and Asia to Europe and environmental problems which threaten the future of humanity await him in his in-tray too.
The UN carries on its shoulders expectations that its members together can bring concrete solutions to the many global crises. The organisation often falls short. How will the UN's new Secretary-General lead, how will he meet the many challenges?
"I think he will be much more sincere in deep knowledge about the issue and the complexity of the political reality of the world. He might be able to steer the global community to be more committed and not just political rhetoric, but it is concrete actions on the field to putting the poor and the migrants in the centre of the discourse and find solutions to that," opined analyst George Joseph.
The appointment 67-year-old was agreed by the General Assembly after a unanimous recommendation by members of the Security Council. The world's top diplomat starts work on a positive note.
"With an embracing vision of human rights and with a serious vision assumed according to values that they represent, I'm convinced that it will be possible to revert this tendency of deterioration that we have been watching internationally on this matter," he said.
Antonio Guterres promises to work towards a more peaceful world #HumanSolidarityDay#SDGshttps://t.co/CMpK0VtSUb

— Irish Aid (@Irish_Aid) December 20, 2016
But despite showing political nous as the PM of Portugal and diplomatic skill in his role as UN High Commissioner for Refugees can he breathe new life into the UN?
There is the risk that the new Secretary-General and his ambitions could be stifled by permanent members who dictate policy. While his room to maneuver will be limited.
But the role can achieve results. In 2001 the then Secretary-General, Kofi Annan along with the UN won the Nobel Peace Prize "for their work for a better organised and more peaceful world".