IMF chief Christine Lagarde found guilty over tycoon payout
Comments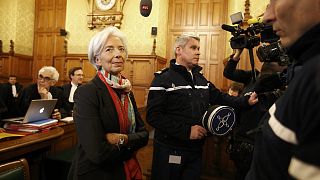 A special French court has found the head of the International Monetary Fund (IMF) guilty of negligence – by allowing the misuse of public funds over a large state payout to a business tycoon, when she was the country's finance minister.
Once again, Mrs Lagarde has not been sentenced to anything

IMF chief's lawyer
The judges ruled that Christine Lagarde had failed to challenge a 400-million euro state arbitration payment to Bernard Tapie in 2008.
Despite the ruling the court decided not to hand down a sentence. The charge carried a potential punishment of a year in prison and a 15,000-euro fine.
Lagarde denied the charge. Her lawyer said their team would look into appealing the decision.
"Yes I am a quite disappointed still because we were asking for an acquittal so I am not going to lie by saying that all is good. That said, let's put things into perspective because there is a partial acquittal and also because, once again, Mrs Lagarde has not been sentenced to anything," Patrick Maisonneuve told reporters afterwards.
In the summer of 2008 the then French finance minister approved the out-of-court settlement with the businessmen to end a long-running dispute between him and the French state.
In the early 1990s, Bernard Tapie was a majority shareholder in sports goods company Adidas.
After launching a political career and becoming a cabinet minister in Francois Mitterrand's Socialist government in 1992, Tapie had to sell the company.
In 1993, he sued Credit Lyonnais, a state-owned bank that handled the sale, alleging that the bank had defrauded him by deliberately undervaluing the firm.
Lagarde decided to accept an extremely rare private arbitration process which ended up with such a large payout at French taxpayers' expense.
During the trial the court's president expressed astonishment that she had not challenged the decision by the three arbitration judges to accord the payment to Tapie.
Even the chief prosecutor had recommended that Lagarde be acquitted, last week describing the case against her as "very weak".
The special court of three judges, six parliamentary deputies and six senators went against the prosecution's recommendation.
The ex-finance minister pleaded on Friday that she had acted with the sole intention of defending the public interest.
But the decision calls her future at the helm of the IMF into question. A spokesman for the Washington-based institution said the executive board was expected to meet shortly to consider the implications of the verdict.