China voices 'serious concern' over Trump Taiwan stance
Comments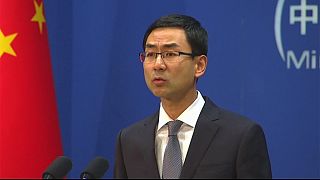 Beijing expressed "serious concern" on Monday after American President-elect Donald Trump said the US did not necessarily have to stick to its long-held stance that Taiwan is part of "one China".
A Chinese Foreign Ministry spokesman said the policy was the basis for bilateral ties and that without it, cooperation in important areas would be "out of the question".
Beijing's reaction indicates that it would reject any effort by Trump to use the Taiwan issue as a bargaining chip in a long list of commercial and security problems facing the two countries.
China has already lodged a diplomatic protest after Trump took a telephone call from Tsai Ing-wen, the president of Taiwan, which Beijing considers a renegade province.
State-backed paper says China must 'wage resolute struggle' against Donald Trump's views on Taiwan https://t.co/zMGqLt8sxk

— TIME (@TIME) 12 décembre 2016
The mounting tension with China means that Trump's choice of US ambassador there, Iowa Governor Terry Branstad, will have plenty to keep him occupied.
While he is a long-standing friend of Beijing – first forging ties with President Xi Jinping 30 years ago – Branstad's diplomatic skills are sure to be put to the test.
Chinese Foreign Ministry spokesman Geng Shuang said China's top diplomat Yang Jiechi, who outranks the foreign minister, had already met Trump advisers, including his pick for national security adviser, retired Army Lieutenant General Michael Flynn, during a transit in New York on his way to Latin America in recent days.
"Both sides exchanged views on China-US ties and important issues both are concerned with," Geng said, without elaborating.
with Reuters