Russia-Taliban ties a 'dangerous new trend'
Comments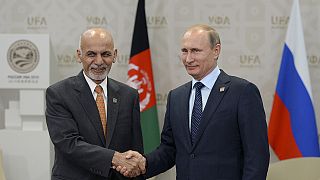 US and Afghan officials are increasingly worried by ties between Russia and the Taliban, despite a denial from Russia that they are providing aid to the insurgents.
A senior Afghan official told Reuters that there appears to be a "dangerous new trend" of Russian support for the Taliban.
This stems from a series of meetings which Kabul says have taken place between Russian and Taliban officials in Tajikistan and even Moscow.
Afghan intelligence officials say Russian support has been political, but these meetings suggest a more direct support, including military and monetary assistance.
US Army General John Nicholson said last week that Russia had joined the likes of Iran and Pakistan as a "malign influence" in Afghanistan.
The Taliban still controls large parts of Afghanistan, despite being forced out of power by the American-led coalition which invaded the country in 2001.
Russia's ambassador to Kabul, Alexander Mantytskiy, said "We do not have intensive contacts with the Taliban", adding that all Russian government contact with the insurgent group was aimed at ensuring the safety and security of Russian citizens, and encouraging peace accords between the Taliban leadership and the Kabul government.
Mantytskiy responded to the claims of Russian collusion only briefly, saying that "(US and Afghan officials) are trying to put the blame for their failures on our shoulders".
In 2007, Reuters reported Taliban officials claiming they and Russia have a "common enemy" in the US, and they received support from the Russian government.
US Defense Secretary Ash Carter is in Kabul today to talk with military commanders and deliver a preholiday pep talk to US troops.
He told reports that the US intends to "remain committed" to Afghanistan.
Afghanistan has long been the scene of international intrigue and intervention, with the British and Russians jockeying for power during the 19th Century "Great Game," and the United States helping Pakistan provide weapons and funding to Afghan rebels fighting Soviet forces in the 1980s.