Meet the 'Space Egg', the EU's new €321 million headquarters
Comments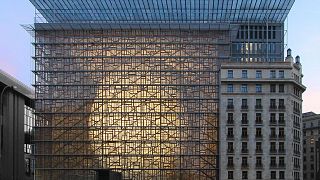 The EU this week unveiled what will become the new headquarters for the Council of the EU and the European Council.
Colloquially called the Space Egg, although its official name is the Europa building, it will serve to extend the current Justus Lipsius building – deemed too small for the current needs of the EU
Both EU institutions will progressively move into the 321 million euro Space Egg. It will enter full service next year.
On Saturday, December 10, as many as 2,000 people will have a guided tour of Europa, getting a sneak peak before EU leaders and ministers discover the building themselves.
---
Picture gallery
Hover over the picture and click the arrows to view the images.
---
The central egg feature of the building is comprised of three meeting and summit rooms with more than 30 booths for interpretations, a cafeteria, and an estimated 250 offices.
Construction on the new headquarters was decided in 2004 when it was also decided that the EU would host all of its summits in Brussels rather than throughout the bloc's member countries.
Except there was one problem: The EU's Justus Lipsius was never designed to host meetings for governmental leaders. It was built in the 1980s and used from 1994 when, at 12 members, the EU was more than half the size it is today.
Since 2004, according to an EU statement, the number of official summits held in the old building kept increasing, from four, to nine. In 2015, a record 12 meetings were held. The Justus Lipsius was simply bursting at the seams.
Europa was designed by a consortium of European architectural firm including Samyn and Partners, Studio Valle Progettazioni and Buro Happold.
The 321 million euro building, almost entirely financed from the EU budget, architect and engineer Philippe Samyn used 3,750 reclaimed wooden window frames to construct Europa's northern and eastern sides. This was done to promote the recycling of materials, pay homage to "Europe's artisanship and cultural diversity".
"The Europa building is a blend of modernity and historic heritage," said Samyn. "The need to preserve, restore and integrate part of the Residence Palace was a challenge but also a wonderful opportunity. The history of this building allows us in some measure to step back into the history of Europe."
Europa is connected via two foot bridges to the Justus Lipsius. The rear of the building consists of the Old Residence Palace, a refurbished Art Deco building that, when the German occupied of Belgium during the Second World War, served as the Nazi headquarters.