Libyan forces clear ISIL out of Sirte
Comments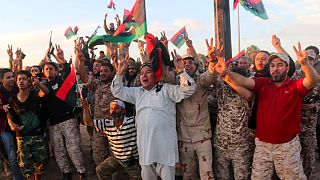 Pro-government forces in Libya have celebrated clearing out the last ISIL jihadists from the city of Sirte.
It's been a gruelling seven-month long battle for control led by brigades from Misrata, backed by US air strikes.
More than 700 fighters have been killed and thousands wounded in the campaign.
"We have full control over Sirte," said one Libyan fighter. "There is no trace of ISIL left now in this city. We have some people combing the area for mines and bombs, the battle today was fierce, there was a large number of suicide bombers, but a large number of families and children have been rescued."
ISIL has just lost control of the city of Sirte. Is this the beginning of the end for ISIL in Libya?https://t.co/JTIzOtguDwpic.twitter.com/YndGFxsNxb

— Al Jazeera English (@AJEnglish) December 6, 2016
The loss of Sirte is a major blow for ISIL, leaving the group without much territory in Libya, though it retains an active presence in isolated pockets of the vast country.
The militants had taken over Sirte in 2015, turning it into their most important base outside the Middle East and attracting large numbers of foreign fighters into the city. It imposed its ultra-hardline rule on residents, and extended its control along about 250 km of Libya's Mediterranean coastline.
Western officials say some ISIL fighters escaped from Sirte before the battle and they now fear an insurgent campaign from out lying areas.
But with Libyan forces now in charge inside Sirte, dozens of women and children who had until now been held captive by the jihadists, were seen coming out from hiding.
The next challenge will be to restore local government and services within the embattled city.
Libyan forces taking last few buildings from Islamic State in Sirte: officials https://t.co/xjVKQ1ed22

— Reuters Top News (@Reuters) December 6, 2016