Trump supporters attempt to block 'Rust Belt' recount bid
Comments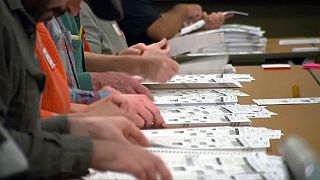 President-elect Donald Trump and his supporters have launched a sudden robust attempt to derail efforts to secure vote recounts in three "Rust Belt" states.
Lawsuits were pending in Pennsylvania, Michigan and Wisconsin, states previously dominated by the Democrats and narrowly won by Trump, attempting to halt Green party presidential candidate Jill Stein's request for a ballot review.
She is leading the charge to secure a recount, but said that she is not attempting to overturn the results of the election, rather on ensuring the integrity of the US voting system.
Stein said that attempts to curtail her efforts are a "shameful" attempt to undermine democracy.
The legal challenges, while not immediately accepted, could prove to be an obstacle for those backing the recount.
With the 13 December federal deadline to finalize results looming, disputes will have to be settled soon.
Hillary Clinton – whose lawyers said they would take part in the Wisconsin recount effort – would have to claim all three states in the ballot review to push her over the 270 electoral college votes needed to win, however this is extremely unlikely to occur.