Slovakian PM Fico calls journalists "dirty prostitutes"
Comments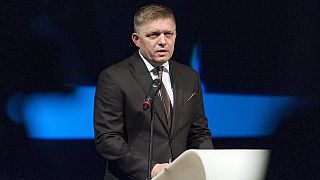 Slovakian prime minister Robert Fico hit out at reporters as "dirty anti-slovak prostitutes" after facing tough questions at a press conference.
Fico was being pressed by reporters about allegations made by Transparency International and Zuzana Hlavkova, a former Foreign Ministry staffer, that his government broke procurement rules in organising cultural events tied to Slovakia's ascension to the European Union Council Presidency.
Hlavkova was part of a team organising numerous events to mark Slovakia's start to the presidency.
During a joint press conference with Transparency International on Monday, Hlavkova accused her superiors of pressuring her into overlooking public procurement rules in organising a February ceremony to unveil the Presidency's logo.
Hlavkova said she was pushed to work with an events agency close to Fico's Smer political party. She also claimed a concert marking the start of the country's EU Presidency was organised without public procurement.
The EU sets out rules on public procurement, the process through which a government purchases goods or services from companies, and they are designed to increase transparency and cut down on corruption.
In 2014 the EU published a report on the public's perception of corruption within each of the bloc's member states. Slovakia consistently ranked among nations, including Greece, Italy and Spain where public perception of corruption was highest.
In conjunction with Hlavkova's accusations, Transparency International said in a statement on its Slovakian website, it has asked the country's public procurement and anti-monopoly bureaus as well as Slovakia's highest audit office to investigate the claims.
The watchdog also called on Foreign Minister Miroslav Lajcak to make public all available documents pertaining to Slovakia's Presidency and demanded the return of misspent money.
But Prime Minister Fico became angry at reporters saying the accusations against his government were attacks designed to smear Slovakia's EU Presidency.
"Some of you are dirty, anti-Slovak prostitutes, and I stand by my words," Fico said. "You don't inform, you fight with the government."
Fico has long had an adversarial relationship with Slovakia's press.
Wednesday's comments were not the first time the Prime Minister described journalists using those choice words.
In 2008 Fico attacked TA3 and Pravda news outlets.
Speaking at the same Wednesday press conference, Foreign Affairs Minister Miroslav Lajcak also batted down the accusations.
"Everything was in line with the law and the budget allocated for the presidency won't be even fully spent," Lajcak said.
Slovakia's Presidency ends in December.