Trump Tower: inside the President-elect's New York home
Comments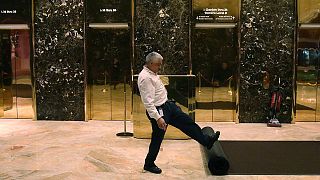 Whether one is an admirer of the new US president or not, going to New York without seeing Trump Tower is, arguably from now on, like going to Paris without taking in the Eiffel Tower. The skyscraper, overlooking 5th Avenue in the heart of Manhattan, had until recently become an outdated symbol of the 1980s. But ever since its owner, Donald Trump, won the White House, it has had a major new lease of life.
La tour Trump à New York, quartier général du président élu. #AFP par AFPgraphics</a> <a href="https://t.co/yUPMV1Bes6">pic.twitter.com/yUPMV1Bes6</a></p>&mdash; Agence France-Presse (afpfr) 22 novembre 2016
Minimalist on the outside but lavish within, when you push open the front door of Trump Tower, you enter into a huge hall lined with marble and bathed in light through a large glass roof. Water cascades down the walls. Even if security is ultra tight, the first floor is still open to the general public via the building's golden escalators. Four golden-painted lifts also ferry visitors from the ground floor up.
Cleaning Trump Tower's walls is not for the faint hearted
A Trump Tower worker cleans the waterfall at Trump Tower on another day of meetings schedu… https://t.co/RMuqLJ8QiTpic.twitter.com/JCFPX9GKre

—

WION

(@WIONews) November 23, 2016
Trump est partout
Containing offices, restaurants, a hotel and Trump's own private residence, Trump Tower is also home to several luxury shops, some of which sell jewellery and handbags created by the tycoons daughter Ivanka
Daddy is equally inescapable, what with the Trump Bar, Trump Grill, Trump Ice Cream parlour, and Trump store.
Trump Bar Local Cheese Plate, paired with Trump Blanc de Blanc trumpwinery</a> <a href="https://twitter.com/hashtag/TrumpTower?src=hash">#TrumpTower</a> <a href="https://twitter.com/hashtag/TrumpBar?src=hash">#TrumpBar</a> <a href="https://twitter.com/hashtag/TuesdayMotivation?src=hash">#TuesdayMotivation</a> <a href="https://t.co/Yf9jPoVtLP">pic.twitter.com/Yf9jPoVtLP</a></p>&mdash; Trump Tower New York (TrumpTower) August 9, 2016
The fifth floor of Trump Tower is where the President-elect's transition team is said to be currently formulating future US policy.
The studio of ''The Apprentice'', the long-running reality TV show which brought Trump huge fame and success, is also located here. However, the actual office of the real-estate mogul is reported to be on the 26th floor, which is only accessible by a secure private lift.
Privately owned and rented luxury apartments also make up a large part of Trump Tower. Residents include Bruce Willis and Portuguese footballer Cristiano Ronaldo. While the cost of renting or buying property in the skyscraper is not clear, one can imagine it doesn't come cheap. Construction of the building was completed in 1983. It has tripled in value since then, currently estimated to be worth around $600 million.
Unless your an old friend getting access to the higher levels of the building could prove complicated. This is where Donald Trump, wife Melania and their 10-year-old son Barron live. The home, a triplex, is said to have stunning views of Central Park.
The future first lady has said she may continue to live in New York rather than follow her husband to Washington. The Trumps are thought to be reluctant to move their son Barron from his private school in Manhattan's Upper West Side.
If Melania and Barron do continue to live in the tower, it's been estimated that the security bill will cost the city of New York around $1 million a day, according to the Daily Mail.
Trump living at the White House and Trump Tower will require double the amount of security #WhiteHouseMandatoryhttps://t.co/EjpJZLKJBjpic.twitter.com/viZ2cQSi1F

— The Tylt (@TheTylt) November 23, 2016
A lire aussi : une journée dans la tour Trump par notre confrère de l'AFP, Ivan Couronne.
12h devant l'ascenseur doré de Trump, tout un spectacle pour ivancouronne</a> mais sans président élu <a href="https://t.co/KXOqaSwDxj">https://t.co/KXOqaSwDxj</a> <a href="https://twitter.com/AFPMakingof">AFPMakingofpic.twitter.com/rB4UuOCwyX

— Pierre Celerier (@pcelerier) November 23, 2016