Iraqi troops face strong resistance as they gain ground in ISIL-held Mosul
Comments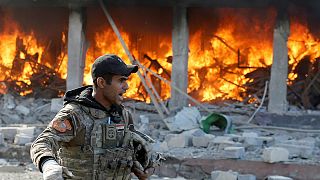 Iraqi forces are facing strong resistance from ISIL as they drive deeper into the east of Mosul.
Snipers, booby-trapped buildings and suicide car bombs are the militants chosen methods to stop the advance.
The coalition troops stormed the eastern district of Tahrir on Friday, expanding their foothold as the jihadists threatened more suicide attacks.
One of which came shortly before noon on Saturday in the Tahrir neighbourhood, wounding four soldiers.
The jihadists suffered a setback on Friday when the coalition forces recaptured the Tal Afar airbase. The militants fought back, killing seven Sunni fighters and five policemen in Shirqat between Mosul and the capital Baghdad.
As coalition forces gain ground, the newly-liberated populations recounted tales of their suffering at the hands of ISIL.
"We have been living in very difficult conditions for more than two and a half years," said one resident in Tahrir. "They imprisoned us in every way, they disconnected our phones, destroyed our TVs and satellite dishes, the internet was disconnected, we were cut off from the world."
One woman spoke of her experience under ISIL occupation:
"We were in Salahuddin, when Daesh (Islamic State) came in, they used us as human shields and took us to Mosul. We have been trapped in Mosul for more than two years, they would not let anyone leave. When the army came in to Bawiza, we escaped, we would jump over walls and go one home to the next"
As fighting intensifies around Mosul, thousands are fleeing to government-held areas. The Iraqi Red Crescent estimates some 80,000 have already left their homes.
With winter fast approaching, the UN is calling for sustained funding as it steps up its aid efforts for the newly displaced families.