Action on climate change is an "urgent duty" - COP22 delegates
Comments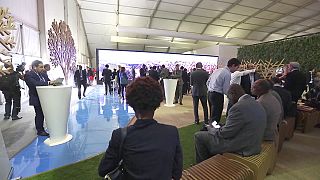 In theory, the aim of the COP 22 summit was clear: to implement the Paris agreement to limit the rise in temperatures to 1.5 degrees Celsius. But in practice, the international community had to hammer out the details, risking the re-emergence of national interests.
Donald Trump's victory raised deep concerns among delegates. Trump had denounced the Paris agreement and threatened to pull out of the deal.
"Not one single country has said if Trump pulls the US out of Paris, they'll join him in leaving — not one." #COP22https://t.co/rHxAP2R8fVpic.twitter.com/l2dbIFxpNY

— Jess Shankleman (@Jess_Shankleman) November 18, 2016
An 'urgent duty'
But almost 200 nations gathered in Marrakesh declared fighting climate change was an "urgent duty."
"What you see is also great determination of the other parties [countries participating at COP22] in clearly messaging to the United States, if you go out of this deal you are making a mistake because the world is going into a certain direction," said Bas Eickhout, Dutch GreenLeft politician. "Of course you can say we're going into another direction. But it's a bit silly and it's not where the jobs are. So if you want jobs then you have to follow where the world is heading to. And that message really comes strong out of Marrakech."
Irreversible momentum
In a statement, ministers at the Marrakesh meeting said momentum for cutting greenhouse gases was "irreversible" and reaffirmed their commitment to "full implementation" of the Paris accord.
"COP22 was important on two fronts of irreversibility," Pierre Cannet from WWF France told Euronews. "Firstly, political irreversibility, to make sure that we can find a way so that this agreement can work, and to ensure that it can happen in 2018.
"A global gathering makes it possible to collectively move towards an acceleration of action.
"Secondly, an irreversibility in the political messages that have been addressed here by the heads of state, heads of government, to finally say that these countries are ready to fulfill their commitments."
Countries attending COP22 reaffirm commitment to Paris agreement – https://t.co/UBpG8u6D1l

— Temba Hove (@BigTimmz) November 18, 2016
In Marrakech, governments, civil society and the financial world have understood each other. But the speed of implementation is still inconsistent.
"The real economy is actually moving faster than governments at this moment," explained Ulriikka Aarnio, senior policy officer UN climate negotiations for CAN, Climate Action Network Europe.
"So we can assume, we can hope there will be lots of over-achievements that we can then harvest and lots of excitement around the world to do more on the low carbon economy. So definitely we are talking towards the same goals but the question is that governments still need to speed up because this transition that is required is huge."
#COP22 – Days 9/10: discover Momentum_UNFCCC</a> with the intervention of <a href="https://twitter.com/AsmaLmnawar">AsmaLmnawar and all the faces of the civil society in the Green Zone pic.twitter.com/3xdJpW6btX

— COP22 (@COP22) November 17, 2016
The 2015 Paris Agreement to limit climate change entered into force on November 4 after winning swift backing from major greenhouse-gas emitters led by China, the US and the EU, opening a harder phase when they will have to keep their promises for action.
At the COP22 summit this week, French President Francois Hollande warned that inaction on climate change would be "disastrous for future generations and dangerous for peace."
US Secretary of State John Kerry expressed hopes Trump might change his mind once in office.
The proclamation, a political statement of intent with no legal force, affirmed plans to cut greenhouse gas emissions blamed for raising world temperatures and causing more downpours, heat waves, and rising sea levels.
#COP22 ……UK ratifies Paris climate agreement https://t.co/Lc0krZbHpo

—

CCRH

(@CCRH2013) November 18, 2016