Stranded no more. Three cows left isolated after earthquake saved by owner
Comments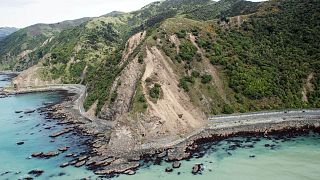 Three cows left stranded after New Zealand's twin earthquakes have finally been rescued by their owner.
It's an image that travelled the world. The two adults and calf huddled together on the only remaining patch of stable earth.
The ground around them buckled and slid away during the 7.8M earthquake that rattled New Zealand's south island.
The three cows were trapped and isolated unable to come down from their elevated position, until their owner Derrick Millton and other locals came to the rescue.
"We cut a track with shovels and encouraged them down, they're very quiet cattle so it wasn't very hard to do but they've had a terrible ordeal," Millton said. "They weren't really very happy about where they were so that made it a bit easier to get them off."
The ground was relatively flat before Monday's earthquake but the fault line, which runs underneath Millton's farm, upended the region.
Millton said the three cows were desperate for water by the time they were rescued.
"You're a clever cow, I think, to be able to skip and dance while the land beneath you is disappearing down the hill," he said.
Hundreds of tourists and residents were left stranded by landslides that cut off roads and delayed rescue operations. Many people near the popular tourist destination of Kaikoura had to be evacuated by helicopters.
Two people were killed by Monday's earthquake.