Moldova and Bulgaria swing to the East as pro-Putin parties win presidential vote
Comments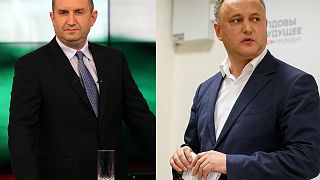 The presidential election results in Bulgaria and Moldova show a distinct pro-Russian political trend.
During their presidential campaigns, both winning candidates advocated closer relations with Moscow.
EU SPLIT: Moldova and Bulgaria elect pro-Russian presidents – https://t.co/3mIhS3yKX1pic.twitter.com/p4i9uPCAlj

— The Duran (@TheDuran_com) November 14, 2016
Leader of Moldova's Party of Socialists Igor Dodon won Sunday's Moldovan runoff vote, beating his EU-leaning rival by around 5 percentage points.
After the elections, he said he hoped his first official visit to Moscow will take place before the end of this year.
"Without the reestablishment of the good, friendly and strategic relations with the Russian Federation, the Republic of Moldova has no future," Dodon said. "We have had these good and friendly relations for hundreds of years.".
Throughout his electoral campaign, Dodon promised to work to change the economic aspect of the association agreement with the European Union signed in 2014 by Moldovan pro-European authorities.
---
Bulgaria, a country largely dependent on Russian gas, also elected Sunday a Russian-speaking president, the socialist Roumen Radev, who advocates improving ties with Russia.
Radev has taken a stand in favour of a lifting of European sanctions against Russia, raising prospects of a strategic shift towards the East.
---
Amanda Paul, a senior policy Analyst based in Brussels,explained the swing away from the West, and towards the East.
"I think in Bulgaria, again, is a reflection of the ongoing crisis in Europe and the empathy from society which is sick of the current political leaders, so I think it is representative of the negative scenario in Europe.
"They are looking for something different to what they have had in recent years. And obviously this pro-Russian candidate represents a total change of personality, whereas in Moldova I think it's more to do with disappointment over the corrupt actions of the governing elite in the last few years.
"The governing elite that was supposed to be pushing policies to make the country more prosperous and less corrupt."
Pro-Putin parties are expected to win elections in Bulgaria and Moldova https://t.co/A2nm98oen0

— The Independent (@Independent) November 13, 2016