A year on: Paris terror attack survivors tell their stories
Comments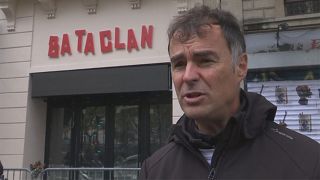 As France remembers the country's deadliest terror atrocities one year on, the Bataclan has been preparing to re-open with a concert by Sting.
The venue where scenes of unspeakable horror took place will again echo to music before a sell-out audience on Saturday night, the eve of the attacks.
LE BATACLAN: La Culture sera la plus forte. pic.twitter.com/4DFzt9WOrr

—

PLANTU

(@plantu) November 12, 2016
Survivors of last November's massacre – such as Denys Plaud – have been learning to live with the terrible souvenirs.
The 48-year-old maths and physics tutor hid with about 15 other people in a small room as gunshots rang out. He called the police, who told them to keep quiet until emergency crews came – it took nearly three hours.
"We were listening to some shooting and screaming, and when we thought it would be over it was just the time the terrorists would reload their weapons and shoot again," he said.
"The most terrible was when there was some exchange between the terrorists and the police. Some of the bullets went into the wall and I was just on the other side of the wall. So I could feel… the wall shaking and I said oh my God, I hope that it will stand", the Bataclan survivor added.
Daniel Psenny – a journalist from the French newspaper Le Monde –
was working from his flat over the road from the Bataclan when he heard gunshots. He filmed the pictures that have been seen the world over as people tried to flee the venue in panic, escaping via the emergency exit and climbing out of windows.
He went out into the street to help the victims, and pulled an injured American man into his building. He was shot in the arm by an automatic rifle.
"I had a 'blast effect' in the arm (from the bullet) which has burnt all the nerve endings, so I've lost part of the feeling and mobility in some fingers, like a paralysis. So it's very debilitating, even disabling in fact," he said.
Gregory Reibenberg has written a book after La Belle Equipe, the name of the bar he jointly owns.
His wife Djamila, and his business partner Hodda – who was celebrating her birthday – were among 19 people killed when it was attacked.
"It's a year of rebuilding, I'm still right in it. You know for us there is no anniversary date, that's for you. For us who were at the heart of it, it was yesterday morning and ten thousand years ago at the same time," he said.
The book, "Une Belle Equipe" ("A beautiful team"), focuses on life after the attacks and the people Gregory lost.
The other restaurants to be targeted have also gradually reopened during the year, but most are now reluctant to talk publicly about the attacks.
On Sunday French President François Hollande will inaugurate memorials at each of the sites.