Turkey arrests Cumhuriyet chairman over suspected "terrorist activities"
Comments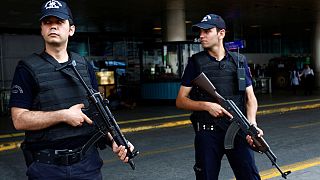 Turkish police have reportedly arrested Akin Atalay, chairman of the opposition daily Cumhuriyet.
He was detained on his arrival from Germany on Friday morning, according to the newspaper's website.
Last week, Turkish authorities detained nine other executives and journalists from the paper. Editor-in-chief, Murat Sambunju, was said to be among them.
The detentions – over the newspaper's alleged support for July's failed coup – have been described by one EU politician as crossing a red line.
According to Istanbul prosecutors, staff are suspected of committing crimes on behalf of Kurdish militants and a network of US-based cleric Fethullah Gulen.
Cumhuriyet's previous editor, Can Dundar, was jailed last year for publishing state secrets involving Turkey's support for Syrian rebels. He was later released and is now overseas to avoid arrest.
Since the failed putsch, more than 110,000 judges, teachers, police and civil servants have been suspended or dismissed and 36,000 formally arrested. Critics of President Recep Tayyip Erdogan say the crackdown is quashing legitimate opposition.