Trump victory puts pressure on Mexico over NAFTA trade deal
Comments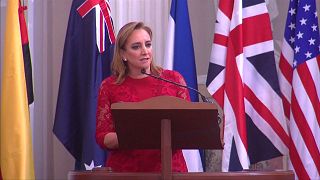 Mexico is in turmoil as the government tries to work out what Donald Trump's election victory will mean for its economy.
We're ready to talk so we can explain the strategic importance of NAFTA for the region

Mexico's economy minister
Eighty percent of its exports go to the US and the president elect has threatened to tear up the North American Free Trade Agreement (NAFTA), blocking much of that trade.
Economy Minister Ildefonso Guajardo said NAFTA can be discussed by not renegotiated.
He hopes to persuade Trump that the deal – signed in 1994 between the United States, Mexico and Canada – is beneficial to the US as well: "We're ready to talk so we can explain the strategic importance of NAFTA for the region. Here we're not talking about … renegotiating it, we're simply talking about dialogue."
Deep, multifaceted, mature and solid
Foreign Minister Claudia Ruiz Massieu was also trying to be upbeat. She said: "The bilateral relationship between Mexico and the United States does not end, nor begin with an election. On the contrary, Mexico and the United States have one of the deepest, most multifaceted, institutionalised, mature and solid alliances that two countries in the world can have."
En la Conferencia Internacional ANUIES</a> se analizan las oportunidades y los retos de la Educación Superior ante la <a href="https://twitter.com/hashtag/Agenda2030?src=hash">#Agenda2030</a>. <a href="https://t.co/nDSZ3plI6V">pic.twitter.com/nDSZ3plI6V</a></p>&mdash; Claudia Ruiz Massieu (ruizmassieu) November 10, 2016
Trump's protectionist rhetoric has prompted Mexican business leaders to say the country needs to reduce its dependence on the United States.
Analyst Luis de la Calle said first they need to know if he's really going to dump the deal: "We should look to having sufficient clarity, as quickly as possible, on what kind of proposals could come from the United States with regard to relations with Mexico. But we must also be aware, it's not very probable there will be such a radical proposal because the benefits are for both economies."
Trade war talk
If Trump were to follow through on his campaign-trail threats to levy punitive tariffs of up to 35 percent on cars and other goods made in Mexico, a trade war would likely follow.
And that would hit the economies of both countries, given that so far this year, 16 percent of US exports have gone to Mexico. It is the United States' second-biggest foreign goods market after Canada.
Mexico's President Enrique Pena Nieto hopes to get more clarity when he meets Trump. An encounter has been agreed between the two, possibly during the transition period before the inauguration in Washinton on January 20 2017.
For now the financial markets are unsure. The peso slumped further on Friday and the cost of government borrowing rose.
Donald Trump talks tough on Mexico. But whether he will actually want to endanger #NAFTA is unclear https://t.co/ptaw2fr90u

— The Economist (@TheEconomist) November 9, 2016
What about Canada?
Canada could fall back on a free trade agreement that excludes Mexico if Trump follows through on radical protectionist policies, officials have said.
Canadian Prime Minister Justin Trudeau said on Thursday that "if Americans want to talk about NAFTA, I'm more than happy to talk about it", a day after Canada's ambassador to the US said Ottawa would be "happy" to renegotiate NAFTA.
The envoy, David MacNaughton, said that even if NAFTA were torn up, the two nations would be bound by the terms of the 1987 Canada-US Free Trade Agreement, the precursor to the trilateral deal which added Mexico, noting, "I can't imagine them wanting to do anything about" that deal.